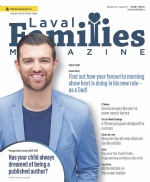 In The Latest Issue:
Latest Issue:
The Natural Heritage of ...
November: Runaway Preven...
10 Candles for the Pédal...
ENGLISH LINK: Public Transportation in the Laurentians

BY:
Kim Nymark
Issue 15
Isolation in the Laurentians is a huge concern and often, transportation is at the root of the problem. Our rural territory is so large that some citizens must travel considerable distance just to get a liter of milk. Owning a car simplifies the task, but what about people who don't drive? What do they do? How do they manage? I wondered about this population and started to research the possibilities that are offered to them. I was pleasantly surprised by my findings! We have an extensive public transportation network available right here in the Laurentians.

Transport services are offered throughout the MRC des Pays-d'en-Haut and des Laurentides by TACL (Transport Adapté et collectif des Laurentides) and have been for the past 10 years. Their annual report indicates that since 2010, demands for inter-municipal services have increased by 11% and adapted services by 9%. A total of 119,300 inter-municipal trips and 43,055 adapted transport trips were completed in 2014. TACL continuously improves their services by adding new routes, offering more departure times, and creating new services.

Their services are divided into three categories:

Inter-municipal Transport: 27 bus circuits are offered to the general public with 14 complimentary taxi bus circuits. These routes run from Rivière-Rouge all the way to Saint-Jerome. Circuits are coordinated with train schedules to allow commuters to transfer in Saint-Jerome to the train and continue on to more southern points. Mont-Tremblant has an added 4 circuits that run daily. All weekend services are considerably reduced.
The complimentary taxi bus service functions like a bus on a regular schedule and allows more remote users access to the extensive inter-municipal bus routes. These services are offered during the week and by reservation only.
Adapted Transport: 26 adapted transport circuits are offered to handicapped users weekly with an additional 4 circuits on weekends. Certain criteria apply to qualify for this service and reservations are required.
Carpooling services: TACL in partnership with the MRC des Pays-d'en-Haut and the MRC des Laurentides encourage citizens to carpool using the reliable website affiliated with the Covoiturage.ca network. The aim is to facilitate mobility during daily or occasional trips throughout the Laurentians, even to Montreal, and complement the existing public transit services. This new service offers you the opportunity to register for free, as a driver or passenger, and to find a carpool partner whose route best suits yours. It is really simple. You enter your departure and desired destination information and potential matches will appear for your selection. The website even has a cost sharing calculator that breaks down how much each passenger must contribute towards the trip.
All routes, schedules and ticket information for inter-municipal buses and adapted transport can be found on the TACL website:
http://www.transportlaurentides.ca/
. Unfortunately, the site is only available in French at this time. Carpooling has its own website:
www.laurentides.covoiturage.ca
and it is bilingual.
So to answer my own questions: People who don't drive or own a car can adequately get around in the Laurentians by using public transportation.
kim@4kornerscenter.org
for the English Communities Committee of the CSSS des Sommets and 4 Korners Family Resource Center: 1-888-974-3940 or 819-324-4000 ext. 4330.