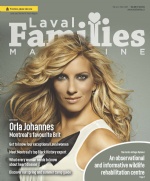 In The Latest Issue:
Latest Issue:
Rabbids Amusement Centre...
Maximizing Children's Po...
Special Needs Camp: A Fu...
Always Look Up and Never Look Down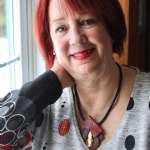 BY:
Lori Leonard
Issue 17
When Ted Bolgar was a boy, he had never experienced anti-Semitism until Hitler rose to power in 1933. Ted's dad was not religious but his mom was, so Ted attended a nursery school run by nuns. Ted's family enjoyed decorating their Christmas tree and lighting Chanukah candles.

Ted says he was an ordinary kid who wanted to become a professor. While growing up, he began to understand what it meant to be Jewish what the Holocaust meant for them: "a Jew had to be lucky to survive, if not, he perished".

On March 19, 1944 Hungary was invaded. Each Jew donned a yellow star sewn to his jacket. Strict curfews were enforced for Jews to stay home between 5:00 p.m. and 8:00 a.m. Radios were confiscated, no cars, bikes or horses were allowed. Jewish people buried their cherished photographs underground or gave them to non-Jewish neighbors for safekeeping. Only 15 percent returned to retrieve their cherished photos. Ted and his family were asked to pack their things in 30 minutes and sent to Satoraljaujhely ghetto in Hungary, a small camp with a synagogue and hospital.

Hungarian Gens d'Armes and German soldiers forced 80-90 people to cram into each cattle car and provided two buckets; one for water to drink and one as a toilet. The stench was unbearable. The trip to Poland lasted 3-1/2 days.

They were transported to Auschwitz. Men, women and children were separated. There was a long platform and at the end SS officers. One of them in a white coat directed people to go either left or right: right for workers, left for children, women with babies in their arms, and the elderly. Ted was separated from his mother and sister. He never remembered the face of an SS officer, only their hands, whether they grasped a whip, gun or stick. Hence, his expression, "Never look down, always look up."

Ted and his dad were shaved from top to bottom in order to be 'very clean and disinfected'. They slept outdoors and were given a bowl of watery vegetable soup to share with 6 men; no spoons provided and told "they were no better than dogs, so they must eat like dogs…"

Ted was sent to five different camps, which most had electrified fences and were always watched by guards. They were not allowed to approach fences as officers did not want Jews to commit suicide, preferring to shoot them. Ted was never tattooed because there was not enough time to be branded; he was assigned number 87846 at Dachau Camp.

Ted didn't find out until after the Holocaust that his mother and sister Vera, 13, were killed the first day they had arrived. Women, children and elderly were led to believe that they were being sent to a bath/shower room. There was no bath/shower room, but a gas chamber and then the bodies were taken to the crematorium to be burned.

Germans occupied Poland and three million Jews sent to ghettos. The largest one was in Warsaw, where 350,000 stayed from 1941-1943. 60,000 people survived, and many starved or died from typhus. In 1943, the Warsaw uprising took place. Jewish fought the Germans with what little ammunition they had. Germans could only defeat them by burning all the ghetto buildings. When the uprising concluded, Germans established a concentration camp to clean the rubble of the ghetto. After three days in Auschwitz, Ted was taken to this camp. The Soviet army closed in on Warsaw. In August, 1944 Germans evacuated the Warsaw concentration camp. This was the initial death march of the Holocaust. Of 7,000 men, only 2,000 arrived in Dachau, Germany.

After two weeks in Dachau, Ted was taken to Camp Muhldorf, established to enable workers to build a seven story factory for jet planes/rockets. Ted worked 6 ½ days per week, 12 hours/day and carried 110 lb. bags of cement daily. Sometimes people fell into wet cement and perished. They were given a daily ration of 300 – 500 calories; coffee in the morning and soup at noon and in the evening with a small bit of bread. Ted revealed that due to lack of food he was unable to think clearly for an entire year. There was no water to wash and Ted was liberated in the same uniform that he received in Auschwitz. Due to lack of washing, again many people had lice and died of typhus. After the war, the US army blew the factory up.

900 camps spread throughout Austria, Poland, Czechoslovakia and Germany. Camps in Poland were liberated in 1944 and 1945. Survivors anxious to return home found other families inhabited in their homes. During the holocaust, 6 million Jewish people were brutally killed including 1.5 million children.

After the war, Ted wanted to leave Europe, but his dad was ill at that time, so he waited a year. His dad then remarried. Ted travelled to Germany in order to leave Europe, but the ordeal took two years (he stayed in DP camps) before he obtained his visa for Canada. The journey took 10 days by boat. Ted arrived at Pier 21, Halifax and settled in Montreal. Psychologists said the survivors were 'too damaged and that they would never make it.' Ted joined the New World Club where he met his future wife, Marianne. They wed in 1954 and had 2 children, Katherine and Robert. When Robert was 12-½ years old, Ted finally revealed his horrific tale.

Ted returned to Hungary in 1973 to visit his dad's gravesite and a last time in 2006 because he saw the words "Jew, go back to Auschwitz" written on the cemetery gate. He never set foot in Hungary again.

In 2012, Ted met Myra Giberovitch at the Cummings Center in Montreal. Myra made an impression on Ted as she had devoted the last 30 years of her life to help Holocaust survivors.

Today, Ted lives in Cote St. Luc. He knows surviving the Holocaust a gift and believes he must fulfill two obligations: ensure continuity of Jewish people and making sure no one forgets about the Holocaust. When Ted, now ninety-one, was asked about his future, he replied, "What future? I go day by day." As Ted explained to students, he has six million reasons not to forgive, but this was three generations ago and he doesn't want to live in the past.

For 35 years, Ted has visited schools and institutions to talk about the Holocaust. He is a highly respected spokesman and speaks at high schools, CEGEP's and universities annually. He shares his stories so people can learn from it avoid repeating history. Ted has participated in the March of the Living for the past 13 years and plans to continue participating in the annual March, as well as spreading awareness.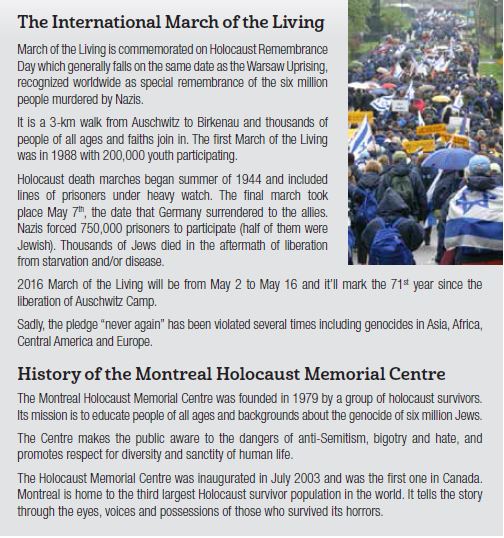 Full credit for the images used shall be given to the Archives under the name Montreal Holocaust Memorial Centre (or Centre commémoratif de l'Holocauste à Montréal)"

Copyright (c) LAVAL FAMILIES MAGAZINE.Permission is granted to copy, distribute and/or modify this document under the terms of the GNU Free Documentation License, Version 1.2 or any later version published by the Free Software Foundation; with the Invariant Sections being LIST THEIR TITLES, with the Front-Cover Texts being LIST, and with the Back-Cover Texts being LIST.A copy of the license is included in the section entitled "GNU Free Documentation License".