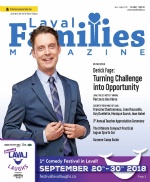 In The Latest Issue:
Latest Issue:
Summer in the City
Derick Fage: Turning Cha...
Sneaky Ways to Get Your ...
Twin Oaks Elementary School
National Finalists in the Samsung Solve for Tomorrow STEM Challenge

BY:
Mrs. M.Lazaris, Twin Oaks Elementary Principal
We're thrilled to announce that Twin Oaks Elementary School has been named one of 11 NATIONAL FINALISTS in the first-ever Samsung Canada Solve for Tomorrow Challenge!

Thanks to the hard work, research and innovation of Miss Jennifer Butler and Mme Emilie Laquerre and the grade 6 student members of the 'Samsung Club', Twin Oaks Elementary School will be receiving $20,000 in Samsung Solve for Tomorrow Technology Grants! But that's not all...

From March 18th to April 18th, 2016 the school's project is up for public voting at www.solvefortomorrow.ca for a chance to win one of two grand prize spots in the Solve for Tomorrow Challenge. The grand prize includes an additional $50,000 in Samsung technology and an epic STEM experience for the entire school. The grade 6 classes have been working hard on their project to get them this far, and now they need your help!

Please go to the www.solvefortomorrow.ca and VOTE!

Be sure to share the online voting link with your friends and family and anyone you can think of – and don't forget to use the #SamsungSolve hastag!

Every vote matters, and many hands can contribute to Twin Oaks Elementary School being crowned a grand prize winner.

Congratulations to everyone involved!