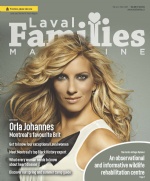 In The Latest Issue:
Latest Issue:
Rabbids Amusement Centre...
Maximizing Children's Po...
Special Needs Camp: A Fu...
Maison des jeunes de Rawdon

BY:
ECOL
Issue 18
Located in the Metcalfe Centre in the municipality of Rawdon, the Maison des jeunes de Rawdon is a spot where teens can go meet up with friends, hang out and take part in different activities. Qualified and responsible employees are there to guide the youth on social, interpersonal and emotional levels, as well as to organize projects and oversee activities. The staff works for and with the participants in determining the activities to take place. Kids who take part in the decision making are inspired by a sense of responsibility, personal and collective empowerment, and creativity.

Most maisons des jeunes only welcome teens from 12 to 17 years of age. In Rawdon, 10 and 11 year-olds are also included. Over its 25 years of existence, the Maison des jeunes has also developed partnerships with other community groups and schools, as demonstrated by their active participation in the project Je jardine ma communauté.

During the school year, the Maison des jeunes de Rawdon is open on Thursday and Friday evenings from 6 p.m. to 9 p.m. In addition to its indoor facilities at 3597 Metcalfe Street (back entrance), the Centre also boasts a skate park, which is a major attraction to many young skaters and freestyle scooter riders. The municipality of Rawdon recently invested $15,000 in adding three new modules to the park.

You can reach the Maison des jeunes de Rawdon at 450-834-6353 or at mdjr@hotmail.ca. They are also on Facebook, so why not befriend them in order to remain informed of upcoming activities?

There are also many other Maisons des jeunes in the Lanaudière region. Consult the website directory of the Regroupement des maisons des jeunes du Québec at http://rmjq.org/liste/ to find one close to you!