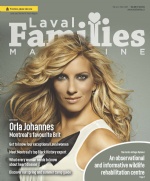 In The Latest Issue:
Latest Issue:
Rabbids Amusement Centre...
Maximizing Children's Po...
Special Needs Camp: A Fu...
Let Your Voice Be Heard with the Help of CAAP

BY:
Kim Nymark
Issue 18
Founded in 1994, the CAAP - Laurentides (Centre d'assistance et d'accompagnement aux plaintes Laurentides) is a regional independent community organization that offers assistance and support to individuals who wish to file a complaint in the Laurentians. The complaint can be concerning one of many different establishments: a community organization, a certified private residence for the elderly, ambulance transport service, rehabilitation center or any service that is provided by the Integrated Health and Social Services Center (CISSS). They are an independent agency that serves as the directorate for the quality of services to the Ministry of Health and Social Services of Quebec.

If you feel like you have not received the services or the quality of services to which you are entitled, you should file a complaint. However, the process can be long, tedious and sometimes, rather complicated. The CAAP – Laurentides can help you through every step of the process. Their services are confidential, free of charge and bilingual. They will inform you of your rights as a healthcare user, help prepare the necessary documents and also follow up with the proper channels. The CAAP - Laurentides' role is not to process the complaint for you, but to help you take the necessary steps to ensure your rights are respected.

User's rights:
To be informed of existing services and available resources
To be informed on your state of health
To be informed of the consequences of the various treatments offered, their outcome and alternatives
To participate in decision making
To benefit from adequate care and services in a continuous and personalized manner
To give or refuse consent concerning treatment and services
To receive emergency care
To have access to your medical record
To choose the professional and the institution of your choice
To exercise recourse
To be accompanied and assisted when seeking services or information
To receive services in English
Why would you file a complaint? A formal complaint can improve services by pinpointing and resolving problems that the various establishments may not even be aware of. Since a complaint is confidential, it
will not
be reflected in your medical records.
Unfortunately, the CAAP – Laurentides' website is only available in French at:
http://www.caaplaurentides.org
For invaluable English information on the complaint process, visit educaloi's website at:
http://bit.ly/1X9lmYt.
You can also reach a Complaint Consultant at CAAP – Laurentides by phone at 450-565-9111 or 800-563-6261. Given the number of calls they receive, you may have to leave a message and a Complaint Consultant will return your call within the next three business days. The CAAP is a free and democratic way to improve the overall health and social services system.
Remember: You have rights!
kim@4kornerscenter.org at 4 Korners Family Resource Center: 1-888-974-3940