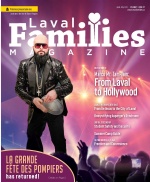 In The Latest Issue:
Latest Issue:
La Grande Fête des Pompi...
Spring is Here at Last
Marco Mr. Tam-Tam: From ...
Aquablu – When You Dream in Color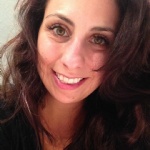 BY:
Lisa Cipriani
Issue 19
Over eight years ago, while boating on the Rivière des Prairies, marveled by the picturesque scene before him, a Laval man gazed out from the water, and almost as far as the eye could see was a swampy strip of land. He imagined the beauty and potential in it. He imagined the spectacular view this scene would afford citizens of Laval year round if developed with flair. The man had an idea, a vision…panoramic views of the waterfront…a towering structure that would itself become a landmark…a place not lacking in any luxury…a level that had never been achieved before in Laval.

That man was none other than John Garabedian, a well-known and highly respected real estate developer. His vision was one of refined contemporary resort-style condominiums, penthouses and waterfront villas. He dared to dream in colour. His vision was Aquablu.

The Man Behind the Vision
John Garabedian, President of Garabedian Development Inc., the developer of Aquablu, didn't always have all the answers when it came to success. From his modest beginnings as the son of Armenian immigrant parents, Garabedian was taught from a very early age the value of hard work and honest business dealings. His father, Sako, did not come to Canada with wealth; he had to work hard, long hours to provide for his family. Taking cues from his senior, Garabedian had the drive and the resolve to work hard and built a successful real estate career spanning over 35 years.

As a young man, Garabedian had always considered himself an artist; he enjoyed sketching and admired all forms of art. As an adult, he began to interpret real estate as an art form.

"I consider myself more of an artist than a developer," says Garabedian. The beauty of the curves, the gleam of the water against the windows….they all form part of a lasting monument to beauty. As all artists do, Garabedian says he wants to put his signature on the building.

A First for Laval
Garabedian knew from very early on that what was going to set Aquablu apart was its prime location on the waterfront, high quality construction and materials, and an iconic architectural design. To this end, he set out to provide each and every resident with an incomparable view of the water, 10-11 foot ceiling heights, Pogen Pol designer kitchens available only at Aquablu and the Ritz Carlton, floor to ceiling windows and oversized balconies. In addition to the heated outdoor infinity pool, spa and fountain, residents can relax at the outdoor lounge area with private cabanas, or take in the scenery at the poolside terrace or sunset terrace. Even in the colder months, residents can enjoy the same activities with the indoor swimming pool, spa and sauna.

With the south-facing exposure and the 1000 linear feet of shoreline, Aquablu is only minutes away from the Ste-Dorothée train station, Montreal International airport and only a 20-minute drive from downtown Montreal. It's the only off-island construction project to offer its residents a unique, luxurious lifestyle with an impressive list of amenities.

Antonios Bekeridis, real estate broker and Sales Director for Aquablu, appreciates the vision behind the project. "Prior to Aquablu, there was nothing comparable in the Greater Montreal area," he says. "The site is exceptional, it's in a low-density, premium waterfront neighbourhood in close proximity to all services and provides easy access to the highway," says Bekeridis. "The developer had this vision, and though some people were skeptical at first, now that it's built people see we have exceeded anyone's expectations and it's only going to get better with the addition of the second phase," adds Bekeridis. Demand was so high in Phase 1 that the building height was redesigned from 12 to 15 floors.

Putting Laval on the Map
Given that Garabedian had a successful real estate advisory career in the U.S.A. for many years, he could have quite easily continued to do so and focus his attention across the border or overseas. Instead, he chose to work where he raised his family, in Laval, and successfully developed the prestigious neighbourhood of Domaine des Berges prior to setting the bar even higher with Aquablu.

"Originally when I presented this project, evaluators came in and said we were crazy," says Garabedian. "We were told that it would never work here in Laval. A few months later, they came back to us, and told us the idea was genius!" Garabedian notes with pride that other major cities, after having seen and experienced what he has been able to do with Aquablu, are now beginning to rethink their urban planning to accommodate more eco-friendly solutions such as condo living, particularly with regards to an aging population that is looking to move to a smaller space, without comprising on quality of living and without having to leave the city they made their life in.

"I've been living in Laval for over 20 years, and this is my city," says Garabedian. "I appreciate this location and I appreciate this area, so I put my finger here and I said to my business partner, this is where we should develop …I want to create something that gives residents everything they want and more, without having to leave their city." In so doing, Aquablu is putting Laval on the map in a big way.

Creating Opportunity for Laval Citizens
A little known fact is that Garabedian and his team had to spend over four years getting all the necessary permits and certificates done to ensure a quality site in addition to adhering to numerous Minister of Environment regulations. What's more, Garabedian and his partner were burdened with the expense of servicing the area, including building the infrastructure, bridge, roads, drainage, as well as extending the multi-use path, public utilities, etc. This was a huge endeavor and one that Garabedian and his team had to invest in upfront, even before sales and construction could begin.

"We can say with confidence that what was promised, is now being delivered," says Bekeridis. Both Garabedian and Bekeridis take pride in the fact that Aquablu's very existence now makes the whole waterfront area accessible not just to its residents, but to all the citizens of Laval. The waterfront area will be developed to include a park, bike path and walking trails by the waterfront, all while respecting green space legislation. "It's an amazing experience when you can make a positive impact for an entire community," says Garabedian. "Only my wife and kids can tell you how much blood, sweat and tears I have put into this, and there's a huge amount of pride that goes behind it," adds Garabedian. "I'm a real guy, a real person, I had an idea and a vision, and now it's a reality."

Aquablu is a reality, not only as a Laval landmark, but it is also one of Greater Montreal's most significant luxury waterfront communities. With the official launch of Phase 2 set for Fall 2016, Garabedian is gearing up for a brand new adventure. As can be read from Aquablu's website, the peaceful one million square foot residential oasis is where 'nature and man-made beauty come together perfectly'.

Do you dream in colour? Do you dream of Aquablu?