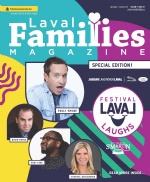 In The Latest Issue:
Latest Issue:
Laugh, Cheer & Celebrate...
It Starts with a Laugh…a...
30 Minute Hit is a Hit i...
Les Petits Chanteurs de Laval celebrates its 35th Anniversary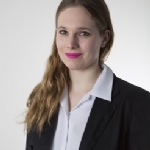 BY:
Lili Monette-Crépô
Issue 20
Founded in 1981 in the great tradition of boys' choirs, Les Petits Chanteurs de Laval celebrates its 35th anniversary with a bang, or rather with two high-quality shows at renowned venues. ''It was and it will be an extraordinary year,'' says Philippe Ostiguy, Musical and Artistic Director for Les Petits Chanteurs de Laval.

Last Spring, on May 15th, there was a show at Théâtre Maisonneuve at Place-des-Arts combining circus elements with choir music inspired by circus. The show was one of important production means and was conceived and directed by Anick Pelletier. ''It was a great success,'' says Ostiguy. This upcoming December 17th, the month that will conclude the 35th year, a classical music concert, with excerpts from the Messiah of Handel, will be happening at the Maison Symphonique in Montreal. ''It will be a reunion concert because past chorists will be invited to come and sing a few songs with us,'' he says.

While Les Petits Chanteurs de Laval celebrates its 35th season, Les Voix Boréales celebrates its 18th season, as it was founded in 1998, and Le Choeur des Jeunes de Laval rings in its 16th season this year. ''Since we are all part of the organization, everyone is involved,'' he says. When Les Petits Chanteurs de Laval was initially founded in 1981, fathers and sons would sing together. In the next years, things started to change, especially with Grégory Charles taking the musical director position for 19 years starting in 1986. ''He really made the organization grow,'' says Ostiguy.

Eventually, a choir for girls was created because there was a demand for it, especially coming from the boys' sisters who wanted sing in a choir as well. The two choirs eventually lead to the creation of an ensemble formed of the former choir members, so the youth could keep singing, Le Choeur des Jeunes de Laval. Ostiguy works for the three choirs that are part of the overarching organization. In fact, besides Les Petits Chanteurs de Laval, a choir of about 125 boys aged 8 to 17, he also directs Les Voix Boréales, an all-girl ensemble of girls aged 9 to 17, and Le Choeur des Jeunes de Laval, whose members are from 17 to 25 years old and were previously in any of the two other choirs (this choir being co-ed).

''We still found it important to keep the separation between guys and girls,'' says Ostiguy. He explains that the choirs that are still separated by sex are few and far between nowadays, but that there are advantages to it. ''What happens is that, unfortunately, when you put girls into a boys' choir, the latter tends to disappear,'' he says. ''What we do realize, however, is that the retention rate for boys is really high, more so than for girls. They get in when they're 8-9 years old and they will stay involved a long time. It's a long-term commitment,'' he says.

Ostiguy says that a reason that might explain that boys drop out when girls are involved is that it can be harder for them to assert themselves in more artistic activities. ''There is still prejudice at that level, unfortunately, especially when kids are young,'' he says.
Besides the gender issue, there is also the time issue. While being part of a choir is no doubt an enriching experience, it also requires a lot of time and effort. Ostiguy recalls his own childhood, when he had to make a cross on hockey to be able to keep singing (Ostiguy was part of Les Petits Chanteurs du Mont-Royal growing up). ''At some point, you can't do everything, especially in an activity that takes a lot of commitment like being in a choir,'' he says.

Chorists have to attend two rehearsals a week with their respective choir; one on Saturday mornings and one on a weeknight. On top of that, they attend singing summer camps (boys and girls going separately), tour locally and internationally, and are called to sing at various events such as St-Jean-Baptiste concerts and on television at shows like En direct de l'univers. ''Since we do very professional events and our singers are known for their professionalism, when they need young people, they come to us, whether it is for television, the symphonic orchestra, the opera, etc.''

While the activity is time-consuming, it also comes with a lot of good. ''The choir members have amazing, out of the ordinary experiences by participating in many large-scale events and by touring. Just on the musical front, there are a lot of things that bring them very far, '' says Ostiguy.

There's also the social aspect that comes into play. ''When you're young, and particularly during teenage years, it's important to identify to a group. The choir members experience a lot of things together because they do summer camp and concerts together. Their best friends are more likely in the choir than at their school,'' he says. For parents looking to enroll their children in one of the choirs, it is important that the children are interested in singing. ''While there is nothing wrong with parents offering different options for their 8-year-old child, it is important that he is genuinely interested,'' says Ostiguy. In fact, it is something that he always tries to grasp at auditions by asking a lot of questions to potential candidates.
Besides an interest in singing, the auditions (in the Spring and completed in the Fall) to get a spot in one of the choirs are pretty straightforward, according to Ostiguy. What is examined is the voice- if it's on key- musical memory and the sense of rhythm. ''The rest can be developed,'' says Ostiguy. There is no need to know how to read music or to play an instrument to earn a spot. ''We start from scratch,'' says Ostiguy. Classes of music theory are offered to solidify the child's learning experience.

Besides the three choirs collaborating together, the organization also often collaborates with certain musical organizations, the Orchestre symphonique de Laval in particular.

Considering how far the organization has come on its 35th birthday, there is no doubt that its future is bright.