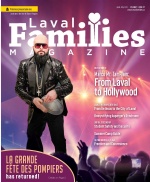 In The Latest Issue:
Latest Issue:
La Grande Fête des Pompi...
Spring is Here at Last
Marco Mr. Tam-Tam: From ...
Gorillas, Umbrellas and Wintery Nights, Oh My!
A one-on-one with Jennifer Llyod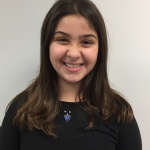 BY:
Victoria Varsamis
Issue 21
Our elementary school Young Authors Contest winner for this issue is Victoria Varsamis, a grade 6 student at Crestview Elementary School. Victoria had the opportunity to sit down with a local children's book author and school teacher, Jennifer Lloyd, for a one-on-one interview.

Q: What inspired you to become an author?
A: My mom would take me to the library every week, and I would read about 10 books a week. I decided to become an author when I was a teenager. I got my first job as a teenager in high school. I worked in a library, putting the books back on the shelves - being around books and just looking at them made me want to write a book.

Q: What was your inspiration for your first book?
A: When my daughter was younger, she loved the book Good Night Moon. That was my inspiration to write my first book, One Winter Night.

Q: How do you find time to write, having a full time job, as a Kindergarten teacher?
A: It's very hard to find time to write…being busy with the kids and family. I write very little, mainly on the weekends, during school and summer vacations.

Q: Have you ever had a writer's block? How did you overcome the writer's block?
A: I have had writer's block many times. Authors have writer's block all the time. There's a trick that authors use to come up with ideas. It's called Quick Writes. You write random words (feelings, expressions, squiggles, etc.) on a page/journal and that helps you to come up with different ideas. You also have to look around for inspiration. Pay attention to what's going on around you.

Q: Out of all of the books you have written, which book are you most proud of, and why?
A: I'm most proud of Ella's Umbrellas. That's because it's meaningful and has a good message. That message is to be kind, share whatever gifts you have, and when you give, you get. This book was nominated for the Christie Harris Illustrated Children's Literature Prize.

Q: Describe the process between you and your illustrator, such as who decides on the final pictures and is it always the same as what you originally had in mind?
A: My illustrators change from book to book. Sometimes, you don't even meet the illustrator. I sometimes contacted them through email. We would exchange thoughts and come up with ideas. The editor connects the author with the illustrator. The book designer ties the book together. The book designer decides the text, the size of the book, the format, pretty much everything after the illustrations and the writing has been completed. It's all a team process.

Q: I've read online that you write on your antique desk that was originally your grandmother's. Why is that? Where is the antique desk located in the house?
A: The antique desk is in an area that jets out from my bedroom. It's a nice, cozy and quiet place. The antique desk makes me think of my grandmother.

Q: Is there any work you started but never finished? Why and will you ever go back to finish it?
A: Yes, there is much work that I have started and never finished. I would always start books, and then stop…mostly because the story itself didn't look good, I didn't think kids would like it, or I didn't like the message. So far, I have not gone back to finish any of [those] books and I don't think I ever will.

Q: Tell me about Murilla Gorilla…How did you come up with the character and why did you decide to continue it as a series?
A: I decided to write a book about a gorilla because I thought that gorillas were cute. It's fun to write about a gorilla that is kid-friendly, messy, all over the place and is funny.

Q: When I am older, I want to write books for young teens. Do you have any suggestions for me, as a young writer?A:
Write as much as you can. Like in a diary/journal.
Read as much as you can. Read from different points of view, different types of text, etc.
And just go for it!
Q: Do either of your two children have the passion of becoming an author, as well? What are the names and ages of your children?
A: Well, my daughter has it more than my son. She wants to become a veterinarian or a writer. My daughter's name is Emily and she is 13, and my son's name is Patrick and he is 18. He wants to become a police officer with the RCMP.
Q: Why did you decide to become a Kindergarten teacher?
A: My first job after university was being an attendant [for students with special needs]. At the time, that was the only job I could get. I would travel to different classes, and I met these two Kindergarten teachers that were so kind and creative and incredible teachers. Their classes were just magical. That's really what inspired me to become a full-time Kindergarten teacher.
Q: As an author, you have the freedom to write from anywhere in the world. Why do you choose to continue to live in Quebec, Canada?
A: I choose to stay in Quebec because that's where all my family is. All my family is here, in Quebec – I have my mom here, my kids go to school here, and my husband works here.
Q: Would you ever consider retiring from teaching? Why or why not?
A: One day I will. Eventually, yes, but not right now. I love both teaching and writing.
Q: Did you ever teach another grade level? Which grade level do you like best?
A: I did teach 1st and 2nd grade and a little bit of 6th last year – teaching creative writing to the 6th graders. I came back to Kindergarten this year. Kindergarten is my passion.
Q: What genre of books do you personally like to read?
A: I like to read Women's Fiction and books with happy endings. I can tell which books have happy ending by looking to see if the cover has pastel colors [laughs].
Q: What is your writing process for beginning a new book?
A:
I start with Quick Writes by writing ideas and words and thoughts that are in my head.
I plan out my story on a big paper.
I go to the computer and type up my story without editing.
It takes weeks to edit and polish the story. Sometimes, I might even start over.
Finally, it gets sent off to the editor.
Q: Why did you decide to continue with the same publishing company all these years? Did you ever think of self-publishing?
A: I didn't really DECIDE to stay with the same publishing company, they sort of decided for me - they kept re-hiring me. So when they offered me a job again, I was going to take it, and no, I would never self-publish.
Q: Are you working on a new book now? Can you tell us a little about it?
A: Yes, I am working on a new book. It's called Dream Rescuers. It's a book written at a 3rd grade level. It's about a little cast of misfits/super heroes and they help kids that are having nightmares.
Q: Would you ever consider writing adult books? Why or why not?
A: No, because I am so used to children's books.
Q: I loved reading the Harry Potter and Hunger Games series. Did you have a chance to read either of the series? What did you think of either of the series, or would you consider reading them?
A: I have not, because they give me nightmares, but my daughter has read all the Hunger Games and Harry Potter series, and has seen all the movies. At one point, she was a Harry Potter fanatic.