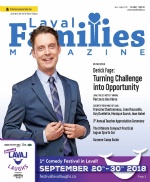 In The Latest Issue:
Latest Issue:
Summer in the City
Derick Fage: Turning Cha...
Sneaky Ways to Get Your ...
The Life of a Journalist with Sabrina Marandola
BY:
Selina Cifelli
Issue 21
Our high school Young Authors Contest winner for this issue is Selina Cifelli, a secondary V student at Laval Senior Academy. Selina had the opportunity to sit down with CBC's Sabrina Marandola for a one-on-one interview.

Q: As you are a CBC TV and radio news reporter as well as a weather presenter, what are the positive and negative aspects of your job?
A: The positive aspects would be that everyday isn't alike, you never know where you're going to be, what you're going to be doing, who you're going to meet—people who you would never have access to any other way. It's a job that opens up so many doors and you cross paths with people that you would never meet in your everyday life. The negative aspects would be [that] since it's unpredictable it can be very hard to plan things in your day-to-day life. For example, if you're out on the field reporting you're there until it resolves itself. You have to expect the unexpected!

Q: What is your current position at CBC?
A: Now, I am a web writer for cbc.ca/montreal, however I also do fill in work if people are on vacation or people are sick so I'd do the weather, anchor, recording or news reading…All depending on vacation time and who's away, so basically my schedule is always shifting.

Q: Knowing what you do now, would still choose this career as a job?
A: I think I still would, actually, because it has changed a lot. From when I was in university to reality now, shooting [video] with a smartphone was nonexistent. I think your personality has to be easy-going, you have to be flexible, adaptable, someone who learns quickly so for that, I love it. I am never bored and everyday I'm learning something new…Also, I love the relationship with the viewers and the listeners! You hear people's feedback and with that you can make a difference. I really like it!

Q: What do you have to say to anyone who would like to become a journalist?
A: I would say get ready to hustle! It's hard work but don't be shy, go for it, give it a shot, then see what comes with it! There are many different branches of journalism so with that I would say to be open-minded to many different positions but always remember at the end of the day, it's always about the people and their stories. Get out there in the community, get to know people, be connected, be a good listener and read a lot!

Q: Have you been in any dangerous situations while covering a story?
A: I wouldn't say dangerous but I've been in a lot of protests. With a protest, you never know if one will get violent. I've been at protests where suddenly rocks are being thrown but I never really felt endangered. I have been in a situation where tear gas was thrown, but luckily I was in the opposite direction that this had occurred.

Q: What or who inspired you to become a journalist?
A: In grade 3 at my school they had public speaking competitions and the teacher had said, "Everyone has to do an oral presentation." I went home that night and my project ended up being about dinosaurs. The teacher had asked who wanted to go first, I was looking around and everyone seemed nervous but I hadn't understood how speaking in front of a group could make someone nervous; to me that was a foreign concept. I ended up being the first to present. My teacher ended up selecting me to go to the competition. That's when I realized I actually liked speaking in front of people and that got me thinking, if this is something that's so scary to other people but so natural to me, maybe there's a career here!

Q: How did you become familiar with the world of journalism?
A: I had no contacts in the industry! I honestly just became familiar with it from my studies. I went to Concordia and I studied Communications in Journalism, a Joint Specialization Program, I did internships, I worked hard and that's how I learned. You learn as you go! Until you do the field, or you are stuck in the middle of a riot, like when I reported the Dawson shooting…School cannot prepare you for a Dawson shooting. News happens, amazing stories happen, tragedies happen and you learn as you go!

Q: What challenges did you encounter to get to where you are in your career, presently?
A: Challenges? I don't know about challenges… it's just a lot of work, putting in many hours but I am very thankful that we live in a society where more often than not, hard work is rewarded. It's not who you know or who you are connected to, it's if you work hard and you're talented, you improve your skills and eventually you will get to where you want to be! Working so hard wasn't a challenge but more what I was expecting over time.

Q: How did you achieve working for CBC?
A: Working hard. Starting off small then growing and getting bigger and bigger. I also did a lot of freelancing on the side. There was a period in my life, about four to five years, where I had three jobs at the same time. I started off in print, working for The Suburban and I was the sole writer for the East End Edition, for about two years. I then went into broadcasting which was always my true love. I worked at a 24-hour radio station; I learned how to do live broadcasting from that job. You never knew when you would be called into work, so I had three jobs, one of them being a producer for an Italian television show called Ciao Montreal and at the same time I was (and still am) a writer for Panorama Magazine. Many people had gotten laid off from the radio station when it shut down and that's when I started at CBC.

Q: How did you learn to keep your emotions intact to keep your reporting unbiased at all times?
A: Often when you tell a story, of course you're human and if you're at the scene of a fire with a family who has now lost their home, of course you feel for that family. You're there to get the people's voices and stories heard. When you're there and are trying to find different angles of the story, you're pretty much going about it in a non-emotional way. Emotions are mostly used to connect with our viewers to see what will tug at the viewer's hearts. It is not to reveal your emotions on the air; it's to reveal someone else's emotions that come with the story.

Q: Is there any story you won't or choose not to report or cover?
A: I've never been in that situation but I think if there is a story that involves someone you know, then you can't cover that story because of conflict of interest. Otherwise, I've had some colleagues who are allergic to animals and if there is a story at the SPCA, they can't do that story because of it. I mean, would I ever do a story on tarantulas? Probably not!

Q: Of some of the main news stories of last year or this year, which would you have liked to cover and why?
A: The whole American presidential election! It could've been fun to cross the border and spend some time with our fellow American friends on election night. Also, I really wanted to cover the nomination of Pope Francis in Rome because that is history in the making…Also anything rooted in Italy—I am very connected to the Italian community!

Q: Out of all the places you've traveled, which was your favorite?
A: I love Italy! I try to go to Italy at least every year. A lot of my relatives are in Italy, we are very close and thanks to technology, I communicate with them, they know what I had for breakfast, lunch and supper! There's not a specific region in Italy that I prefer but I am a pizza addict so I need to be around Italian culture for about two to three weeks every year.

Q: Are any former or current journalists a direct source of inspiration for you, or anyone else for that matter?
A: I've been so blessed and I've worked with amazing colleagues. I literally worked in a newsroom where people had more years seniority at CBC than I've had on planet Earth! That is such a gift to be able to work with people who want to coach you and when you work with them, you learn so many things just by watching or just hearing how they interact with people and that is invaluable! I worked on the morning show with Denis Trudeau, who used to be an anchor at CBC. I learned so much from him and I had so much fun working with him. Then just personally, my mother. She's my compass, she keeps me in check and sometimes for stories I ask myself, what would my mom think of this?

Q: Was journalism your ideal occupation or was there another field that you were interested in, initially?
A: It was always journalism since the beginning, for me. My second choice would've been to become a teacher because you're still speaking in front of a group, I love working with teenagers and I participate in career days all the time! I just love talking to young people so I think that would be my second choice.

Q: What has been the most shocking story you have ever covered?
A: I've covered the Luka Magnotta trial. Just those circumstances was a horrific story that you would never hear of.

Q: As a journalist, what are the sets of codes or rules that you follow most often?
A: We have different codes or sets of rules. You have the ones by law that you can't break, such as if a minor is involved in a crime, you can't state their name…certain things in the court you're not allowed to report on. Then there are the more ethical rules that we follow. We'll never show a picture of someone who is dead if you can identify that person. It's not written by law but it's an ethical rule we follow out of respect. When you are reporting as well, you think about what you say before you say it.

Q: Do certain articles or topics come more naturally to you than others?
A: Yes, for sure. We can argue that every story is about people but I really love where you can really dig deeper and it's a people story. It's either a story or a profile on somebody who is doing something amazing so it gives you a chance to get that one-on- one that you normally wouldn't have with that person. I love stories where there is a motivation behind an action! For me, I'd rather talk about people than a sports score. I always love number stories, for example, articles with statistics.

Q: Are you personally impacted by any of the stories you've covered, either negatively or positively?
A: There are some stories that you really remember. For example, for Panorama Magazine, I interviewed a man who was 102 years old. I remember everything about his house, what he was wearing the day I met him and what he said to me. I mean, it stuck out so much because when do you ever get to have a conversation with someone who is 102 years old? Sometimes you have really tough stories and those people do cross your mind from time to time.

Q: How do you prepare to write and submit an article?
A: Before I meet the person, I read up on them as much as I can. I usually have a list of questions to ask them and I have a point form of where I want to take the interview. I'm the type of person where when I am prepared, I know I can relax and let the interview roll itself. Once I am sitting down to write the article, I think, what were the points that the person mentioned that stood out to me the most? What would my next door neighbor find the most interesting about what this person had to say? I get those points down and then I build my story around it, but the first sentence is always the hardest! I can stare at a blank screen for at least 20 minutes. Once that's done, hopefully, everything comes together naturally.

Q: How many times do you proofread your work?
A: My process has changed over the years but what works for me is once I finished writing my first draft, I put my laptop away for a few minutes and every time I go back I reread everything from beginning to end. Once I am done, I close it and I never submit it the same day, ever! I'll go back to it within the next few days and I reread it again, then that's when you see what can be improved. When I reread it I'm looking for if I'm bored or if a stranger were reading this, when would they stop reading and turn the page? When you reread it within a few days of writing your first draft, you look at it with a fresh perspective and then from there I proofread and I do my editing.

Q: Do you have any superstitions you abide by when covering a story?
A: No, I am not superstitious!