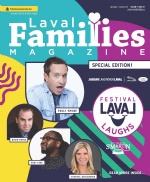 In The Latest Issue:
Latest Issue:
Laugh, Cheer & Celebrate...
It Starts with a Laugh…a...
30 Minute Hit is a Hit i...
Asista Foundation: A Young Vision in Support of Mental Health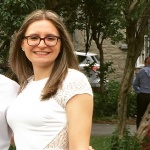 BY:
Alexia Marsillo
Issue 22
Experience and age are not always the most essential factors of success – more often than not success is derived from pure passion. John Agionicolaitis turned his childhood love for animals and passion for animal health into a non-profit organization providing service dogs for individuals with Post Traumatic Stress Disorder, Autism and other mental disabilities. He did all of this before the age of 18.Asista Foundation was created in April 2012, founded by Agionicolaitis and his mother, Solange Barbara. "When we started the foundation, he was under age, so he couldn't start a non-profit," says Barbara. "It's a great cause, he needed my support, and we make a very good team."

Agionicolaitis wanted to start volunteering in animal health at the age of 12 and the fact that he was too young to do so did not stop him. His mother recalls him writing a letter to the owner to make his case. "[He wrote] that he would start cleaning cages and poop if he had to, so they agreed and they took him every week and he did just that – cleaning cages – and that's how he started," says Barbara.

Agionicolaitis, now 20 years old, works at Centre Veterinaire Laval – a job he secured at the age of 15 as the youngest employee ever hired there. He is doing all this while in the process of getting his Master's degree in Business at McGill University and keeping up with his work at the foundation.

"It's very time consuming, but also rewarding," says Agionicolaitis. "When a veteran says 'Thank you, I wouldn't be here if you hadn't given me that dog' – for us that's what counts, that's what keeps us doing the foundation."

Asista is now growing at a much faster rate than it was in the beginning. Starting with only one dog in 2012, the foundation has now trained over 30 dogs and provided services to individuals in need. "We've done a tremendous job," says Agionicolaitis. "Our goal at the end of the day is to help as many people as we can."

A Diverse Team and Plenty of Effort
Finding and preparing a dog for service to people with mental health disabilities is no simple-task; it is a multi-step process that takes the effort of many individuals. Agionicolaitis and his team will either find dogs for the foundation through breeders or through shelters. These dogs must then undergo approximately three months of socialization with a foster family before being trained for service by a professional. Of course, none of this would be possible without the diverse team at Asista – the foundation runs solely on the volunteer work of its directors, secretaries, veterinarians, trainers and marketing advisors.

"We all have two full time jobs, we have our full time job – the one that pays – and the foundation," says Barbara. "And this one pays in another way, in a way that you cannot get anywhere else – it's a reward."

Lia Maggiorino, a high school educator and an Asista volunteer family foster coordinator, also finds reward through this challenge. "A foster family is really hard to find because you know you have the dog for three months, you're socializing the dog, which means you take the dog everywhere you go, and then you have give the dog back," says Maggiorino.

She helps spread the word for dogs in need of foster parents through family and friends and through social media – and has been doing so ever since meeting Agionicolaitis at his high school, Laurier Senior, in which she was teaching in the same building but at the junior level. Agionicolaitis was fostering a dog for the Mira Foundation – Trio – however in the end the dog did not meet all of the qualifications for Mira. Therefore, Trio became the first service dog for the Asista Foundation.

"So when Trio didn't pass the test, John was able to keep him and John turned what Trio wasn't able to be into a new concept," says Maggiorino. Trio was the dog that started it all for Agionicolaitis and the foundation.

"So we started socializing Trio and saw that the dog was extremely compassionate and had all the qualities to become a service dog," says Barbara. "So from there we started seeing what else we could do; that there were so many dogs that have been left in different places that could become service dogs."

There are, in fact, many dogs that have most, if not all, of the qualities to become a service dog. However, there are assessments the dogs must go through – including a health exam and a behavioural test – before the foundation can decide if they are eligible candidates.

"Our protocols are very strict," says Agionicolaitis. "We have specialists; we have an orthopaedist, and an oncologist. We have all our bases covered in that sense."

Asista's medical team consists of five veterinarians – including three general practitioners, an oncologist and an ophthalmologist. Once a dog is found, the medical team examines the dog to decide whether or not it is able to perform its tasks as a service dog.

Selecting Service Dogs
"They don't have to be perfect but we do want to have dogs that have a really good long term prognosis when they enter the foundation because it's so much training to put them through and people get attached to the dogs," says Dr. Emmanuelle Martin, a general practitioner in veterinary medicine who has been volunteering with Asista almost since its inception.

Dr. Martin and the other veterinarians at the foundation perform the health exams on the dogs to ensure that they do not have any serious ongoing medical conditions. Dogs with minor and manageable health problems that do not cause them any pain are still candidates to become service dogs. Once their health is cleared, dogs are sent to a foster family for a minimum of three months to be socialized and are thereafter trained professionally.

"There are some exceptional dogs that don't need that much training and don't need to be socialized as much," says Dr. Martin. "There are some dogs that are naturally good with people and don't need a lot of discipline."

The foundation's team consists of two professional trainers, one of whom is from the canine unit of the Laval Police Department, who volunteers his time to train certain dogs and speak to veterans suffering from PTSD.

Eligibility for a Service Dog
For a service dog to truly live up to its potential in helping people with a variety of mental disabilities, the individual must, just as the dog, also be an eligible candidate. Once the foundation receives an application from someone wishing to receive a service dog, the Asista committee must first get the green light from that individual's doctor and family.

"It doesn't replace medication and it doesn't replace doctors but it certainly makes a better quality of life," says Barbara.

As each case is unique from another, so is each person and each dog. Asista makes the effort to match a dog and a person in terms of compatibility, in order for both the dog and the individual to benefit as much as possible from the experience.

"It makes a better quality of life for the person as well as the dog, because the dog is never alone," says Agionicolaitis. "It's a win-win for both of them."

Asista Foundation reviews and balances what each dog has to offer against what each individual needs. "A child with Autism versus an adult with PTSD are not the same – we have different training protocols for each," says Agionicolaitis.

"The dog is trained not to cure the PTSD completely, but to mediate, so if you wake up in a panic in the middle of the night the dog is there," he says. "For PTSD, it is to have companionship 24/7 that increases sociability and increases a sense of safety surrounding veterans. For Autism, it is more about the social aspect."

More often than not, the individuals with Autism and/or PTSD are not the only ones in need of some rescuing. "This is helping the dogs that maybe would have been euthanized instead," says Barbara.

From Abandoned Dog to Hero
Agionicolaitis reached out to Maggiorino last year to help him find a foster family for a dog he found abandoned outside. "Mandy was left on the side of the road to starve and freeze to death and now she has changed somebody's life," says Maggiorino. "It is incredible – she has gone from having nothing to serving a huge purpose in life."

The Vice-Principal at Maggiorino's school became the foster parent for this dog and Mandy would accompany her to the school every day. Even for just those couple of months, the dynamic of the school was positively impacted – when frustrated students would be sent to the office, Mandy's presence would automatically brighten their mood.

"Mandy, in particular, has an overbite, for example, but she is the sweetest, sweetest dog ever," says Agionicolaitis. "By her not being so perfect, she gives that child […] a sense that you could be great even if you are not perfect, or what we consider to be 'perfect.'"

Asista may have very well found the perfect location for their office – right above the Centre Veterinaire Laval on Highway 440 where Agionicolaitis works, as well as Dr. Martin.

"It's a really good benefit that we have because let's say I'm not there and an [Asista] dog comes in – and because we have a rebate plan for dogs that are with the foundation and the veterinarian centre – they can see any other vet that's available," says Dr. Martin.

Fundraising to Support Continued Services
Asista's services are available 24/7 for anyone with questions regarding a dog's health or about any other issues at hand. In order to keep all these services going, the foundation holds several fundraising events throughout the year – most notably their 'Bath-a-thons,' where friends and family are encouraged to bring their pets for baths in exchange for donations.

"The funding is a big challenge; constantly trying to come up with ideas on how to get funded," says Barbara. "These dogs are given, we don't ask money for them. We also have to put money out of our own pockets to be able to sustain."

The entire team at Asista is constantly looking for ways to improve in all aspects of the foundation and to push the boundaries of their work. They have recently completed a continuing education course about PTSD and are representing Quebec on The Canadian General Standards Board of Canada to participate in writing the Canadian standards for service dogs.

"We've been recognized for our expertise with service dogs for mental health," says Agionicolaitis. "It's nice to be all working together to come up with one standard." The passion for animals and for helping animals that support those with mental disabilities such as Autism and PTSD is so evidently shown through the many Asista volunteers who devote their time to this cause.

Age and experience may not always come hand in hand with success, but in this case, Agionicolaitis worked hard to gain his experience and found success in spite of his age.