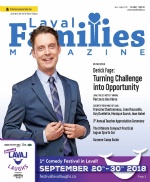 In The Latest Issue:
Latest Issue:
Summer in the City
Derick Fage: Turning Cha...
Sneaky Ways to Get Your ...
Qualificaction: Your partner for all your training needs!

BY:
SWLSB
Issue 22
The Sir Wilfrid Laurier School Board (SWLSB) celebrates the third year of operation of Qualificaction, its in-company training division. Very involved with the business community of Laval, the Laurentians and Lanaudière, our professionals aim to support companies in their training projects.

Qualificaction offers a wide variety of training courses broken down into three categories: Sales and Customer Service, Management and Human Relations, and General and Technical Skills. We make it our duty to design customized courses in line with the specific needs of your business.

We have brought together a team of seasoned instructors with different professional backgrounds to share their subject matter expertise with you. As a renowned teaching institution, Qualificaction is well positioned to take charge of your training requirements.

Why invest in training?
Studies show that companies that invest in the professional development of their workforce obtain better results and show a lower turnover rate.

Today's highly competitive market and the scarcity of skilled labour make training a very wise investment since it enables companies within a region to achieve real business results and, in turn, become employers of choice.

Qualificaction's advisors strongly believe in the positive impact that comes with developing employee skills. With their know-how, they play a key role in shaping training projects into successful programs that contribute to a company's success.

Made-to-measure training programs
Your business is unique and so should be your training plan. The benefits of a training course tailored to a company's specific needs are far greater than those of a generic training course available on the market. When comes the time to determine their clients' needs, Qualificaction's advisors meet with clients directly on their premises to start developing a personalized training program based on the number of employees involved and the budget available. Once the plan is presented and approved, the training can quickly get under way.

Flexible and accessible training
Qualificaction's courses may be offered in English or in French, directly on company premises or in the meeting rooms of the Sir Wilfrid Laurier School Board. Courses are delivered either during working hours or after work, all depending on your company's business requirements.

Current topics and course content that reflects today's labour market, this is QUALIFICACTION's promise to you!

For more information, please contact Sophie Thibault at 450-621-600 ext. 1426 or at sothibault@swlauriersb.qc.ca. You may also visit www.qualificaction.ca.