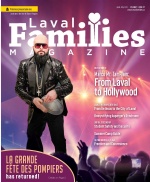 In The Latest Issue:
Latest Issue:
La Grande Fête des Pompi...
Spring is Here at Last
Marco Mr. Tam-Tam: From ...
Bouge Ton Parc Moves Parc Lausanne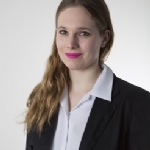 BY:
Lili Monette-Crépô
Issue 22
Bouge ton parc is an annual event in Laval at Parc Lausanne, where participants of all ages can run 1, 2, 5 or 10 km to promote a healthy and active lifestyle. This year, the Société Alzheimer de Laval will join Bouge ton parc for their annual Walk for Alzheimer event.

The idea of Bouge ton parc came to Michel Reeves, the event President and Founder, after his son got a ticket for having played football on the field in broad daylight at Parc Lausanne. Instead of complaining, Reeves decided to get involved to make the park a place where physical activities can take place. It was around a family dinner that the idea took form, and his daughter, Annie Reeves, is the Vice President of the organization. ''My dad was thinking that the park wasn't active enough. He wanted to make it 'move' to promote healthy life habits,'' she says.

Furthermore, Bouge ton parc is looking to give back to the community by offering a funding leverage for Vimont-Auteuil organizations who want to participate in the run. Many schools, organizations and daycares were involved in the 2016 edition, including Terry Fox Elementary School, CPE GaminVille and Relais Familial d'Auteuil.

The success gets bigger and bigger every year, with more participants to every edition since 2014. ''In 2016, we had almost 800 people—It's massive. This year, in 2017, we want to reach 1000,'' says Annie Reeves.

''I participated [in 2016] because it motivates people, and it's really good for health,'' says Jocelyne Frédéric-Gauthier, city councillor for Auteuil. ''I'm in the Vimont-Auteuil neighborhood; it's very close. As a councillor, I think that I should participate to give a good example,'' says Frédéric-Gauthier, who completed the 2 km at the 2016 edition of the event.

Pierre Brochet, Director of the Service de police de Laval, a running fanatic and a participant at the 2016 event, agrees with Frédéric-Gauthier. ''It promotes physical health,'' he says. ''It's important that people take charge, get together, and organize activities. As a Police Director, when the community is strong, it makes my work easier,'' says Brochet.

David De Cotis, city councillor for the district of Saint-Bruno and Vice-Mayor for the city of Laval, also participated in the 2016 event. ''It gives a good spirit of belonging within the park, which is at the core of the community,'' says De Cotis.

Angelo Iacono, federal MP representing the riding of Alfred-Pellan, has participated in the event since it began. ''It makes people get out of the house, meet and talk. Sometimes with our neighbours, we barely say Hi, and in an event like this, it allows us to break from the routine and to spend time practicing an activity. Plus, it's for a great cause,'' he says.

Archie Cifelli from Group Kloda Focus Inc. contributed by donating inflatable games for the 2016 edition. ''We met Michel Reeves and we want to support him in what he does for the community. It was our first year, but we will participate as long as he needs us,'' says Cifelli.

Since the event takes place at the beginning of the summer period, typically in May, it is also an opportunity for runners to start training. ''We have already done several marathons and half-marathons, and now we are beginning again. We do 5 km and 10 km runs,'' says Steven Davis, who participated in the event for the first time in 2016 with his partner Daniela Carbotti.

Whether it is for getting into shape, giving back to the community or simply to spend a nice day with the family, Bouge ton parc has something for everyone.

The 2017 edition will take place on May 13th at Lausanne Park. To find out more or to register, visit bougetonparc.com.