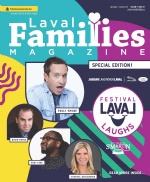 In The Latest Issue:
Latest Issue:
Laugh, Cheer & Celebrate...
It Starts with a Laugh…a...
30 Minute Hit is a Hit i...
Benefits of Summer Camps are More Than Meets the Eye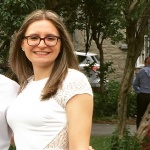 BY:
Alexia Marsillo
Issue 22
As much as a child's education is important, so is the time spent away from school. The summer months of the year where children are given time off to play and to simply be children is a crucial time for them to explore who they really are. Generally, the camp experience promotes social integration, positive attitudes towards physical activity, increased environmental awareness, emotional growth and self-confidence, according to the Canadian Summer Camp Research Project done at the University of Waterloo.

"I believe the positive impacts of camp come from spending time as a group and trying new, exciting activities with dynamic and caring counsellors," says Chloé Melançon-Beauséjour of the Association des camps du Québec. The association is a non-profit organization that represents day camps, summer camps and nature education programs, amongst others. The association has set up standards and regulations that deem a camp to be "certified" based on safety, training, environment and other diverse factors."

"We have over 60 quality standards camps must follow to become Certified Camps," says Melançon-Beauséjour. "We also have standards regarding programming, which must include a variety of fun activities adapted to participants' age and abilities, and founded on the principles of progress, challenge and success."

The Waterloo study also concluded that returning campers and older children are the most likely to highly benefit from the advantages of camp in all five areas of development the project studied. Although many parents are hesitant to send their young children to summer camp – and as are children themselves anxious at the thought of it – it is proven to be most beneficial in the long run to take the leap at a younger age.

"For resident camps, I would say the number one reason we hear for hesitation is that both parents and children are not used to spending a week or more apart," says Melançon-Beauséjour. "However, this very rarely proves to be an issue for children once at camp. They are usually too busy to miss home."

The diversity of activities offered at different summer camps aim to appeal to every child. According to the Waterloo project, children's increased positive attitude towards physical activity is one of the most important advantages camps can offer. Summer camps not only make children more active while at camp, they also allow children to experience the joys of being active and encourage them to want to continue physical activities outside of camp.

"Camps, especially resident camps, are also great places for children and teens to reconnect with nature," says Melançon-Beauséjour. Exposing children to a wide range of activities allows them to broaden their interests and to be more open to trying new things.

"Camp is more than just a vacation," says Melançon-Beauséjour. "It's a gift that lasts a lifetime." Many of the ideals instilled in children at summer camps, such as self-confidence, sociability and independence, are vital in preparing a child for adulthood. The benefits of summer camp might seem superficial on the surface, but the social skills and the physical and emotional growth rendered at summer camp can have a lifelong impact.