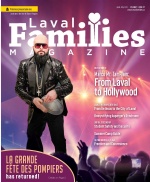 In The Latest Issue:
Latest Issue:
La Grande Fête des Pompi...
Spring is Here at Last
Marco Mr. Tam-Tam: From ...
Getting to Know Frank Cavallaro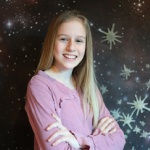 BY:
Megan Morin
Issue 22
Our elementary school Young Authors Contest winner for this issue is Megan Morin, a grade 6 student at St-Jude Elementary School. Megan had the opportunity to sit down with CBC's Frank Cavallaro for a one-on-one interview.

Q: Was it your dream to become someone famous when you were young, or did you have something else in mind?

A: No, I'd never thought of being famous. When I was a kid, I didn't know what I was going to do. Some kids have ideas, some don't. It just happened this way. I always wanted to be a game show host, because I loved games on TV.

Q: You started by working on the radio, you then travelled across the country (NB, Manitoba, Ontario) working at different jobs. You made many sacrifices, like shaving your moustache. Have you ever been discouraged in your career, and have people help you?

A: Yes, I was discouraged many times. When I started in New Brunswick thirty years ago, it was my first radio job. I started five days before Christmas. It was hard having to leave my family. What kept me there was my job. It was hard, but I loved being on the radio. It was a great experience. I learned a lot.

Q: 1988 was a great year for you because it was your first job working at Météo Média. Do you remember how your first day went?

A: My first day was December 31st. I had a moustache and I had only one jacket in my wardrobe. I wasn't nervous. I was on air starting at 6 pm and my shift ended at 2 am January 1st. I would come on air every 10 minutes. Compared to the time I'm on air now, in eight hours, I did the equivalent of two years of television! I had a lot of fun. Radio really helped me with television. Without my radio experience, it would have been a lot harder.

Q: At what moment did it become clear to you that weather reporting was your specialty?

A: When I started at Météo Média, I had to study meteorology and weather. I liked it because my favorite subject in school was geography. It was easy for me, because I like looking at maps: spotting the lakes, rivers, roads, towns, etc. I was always fascinated by maps and weather. To do weather across Canada you have to know geography. Weather affects everybody every day. It changes all the time, and that's why I enjoy it.

Q: You have been at CBC News at 6 in Montreal since 2008. Can you describe a typical day at work on and off the screen?

A: I usually get to work around 2-2:30 pm. First thing I do is check my computers. I have a radio hit [air time] on CBC radio 88.5 FM at 3:10 pm. I have 40 minutes to get my latest forecast ready. I do my live radio hit with the host of Home Run, Sue Smith. We talk about the weather or other topics. Then, I return to my computers. I start to prepare my television show. I've got a couple more radio hits. I go from one studio to another. In between, I'm preparing my graphics and maps for the TV shows at 6:00, 6:30, 11:00 and 11:30 pm. I finish at 7-7:30pm. At 7 pm, I tape the weather that will be presented at 11 pm.

Due to budget cuts the late weather is prerecorded. I could be home at night and see myself on TV. If I go to a restaurant, people can see me reporting the weather on CBC at the same time that I'm at the restaurant! This one time I was at a friend's house and at 10:30 pm I left pretending that I had to go to the studio for my weather report. No one at the house thought I would be there on time. But at 11:00 pm I was on TV. What a surprise they had when I walked back in the house while I was on TV! [laughs]

Q: Now that you're known by many, do you have a lot of offers for covering events, television commercials or interviews like mine?

A: Yes, we get a lot of calls but not so much offers. A lot of the stuff we do is volunteer, so I don't get paid. If it's a fundraiser and the organization is making money then fees get involved. I've been to many schools to talk. It's part of my job.

Q: You have won numerous weather awards. What are your strengths in your specialty?

A: I'm not a scientist. I try to simplify what I'm talking about, so people understand. Also, I don't have much time. I mostly only have two minutes [on air]. I don't want viewers to change the channel because they don't understand. I try to have fun doing it. Weather should be fun unless there was a tornado and people got hurt. If you don't understand the weather presentation, then that means I didn't do a good job.

Q: In the early 2000's, in Paris, you won the title of the best weather presenter in the world. Wow! That prize must have boosted your career. Can you talk about that?

A: I used to go to the weather conference every year. They've been doing it since the mid- 90's. There's one this year at the end of March, in Italy. We have to submit a video of us doing our job for three minutes. The time that I won, there were about 100 reporters in total. It took us five hours to view each other's tapes. It was fun because I got to see the weather people in other countries like Africa, Australia, etc. At the end, we all voted for the best one. I ended up winning. I got the chance to appear on live television in Paris with my trophy. I won it three times.

Q: What does your son think about having a dad that's on TV?

A: My son is 21 years old. Between 12 and 16 years old, he would watch me on TV at supper time because I'd be at work. Now, my son doesn't pay as much attention to my television broadcasts. In fact, I think if you'd ask him, he probably wouldn't know when I'm on! [laughs]

Q: Do you enjoy your celebrity status? Is it fun or hard at times?

A: It's both. Sometimes it's really hard. I have to be very careful what I say and do, always. I have to smile all the time; if I don't I will have a bad reputation. Especially today with social media. The good thing is sometimes you get to enjoy small favours which you don't ask for.

Q: Ratings on CBC News Montreal have considerably increased with you. What is your objective now?

A: When I was on air at 6:00 to 7:00 pm the ratings went up because we had a good show at a good time. A year later they changed it to 5:00 to 6:30 pm. At 5:00 we were competing with other popular shows. So, our ratings went back down all because they moved our cast to 5:00. Two years ago, we were again changed, this time from 6:00 to 6:30 pm. The viewers want consistency. I just do my job the best I can even though they change the hours.

Q: Can you describe what qualities you have that makes it look so easy to have the public adore you?

A: I try to have fun and smile a lot. It also helps that I'm not shy. I feel comfortable always being out there shaking hands. I use my judgment to properly inform people [about the weather].

Q: Is it hard working on live TV? Can you tell a funny misadventure that happened to you?

A: A lot of funny things happened. One of my favorite was with my work partner at the time, Ron Reusch. It was Halloween night, and I had put on a clown's nose. When I turned around to present the weather, at the corner of my eye I caught a glimpse of him laughing! This guy never smiles or laughs. I had actually got him to laugh! I couldn't stop laughing myself! I was on live TV and couldn't speak so I never got to the weather report. Another was when I brought one of my grandfather's big zucchinis to the station. It was a joke, but eventually it became an annual contest.

Q: Is one of your dreams to be a news anchorman, and if so, why?

A: Not really. I would rather be a sports anchor or game show host because I like to have fun. News is serious. I would do it because I'm able to read a teleprompter, read a news story and be serious, but I would prefer sports or entertainment because I find there's more leeway and fun.

Q: Is there a role model who has inspired you to pursue your dream?

A: I grew up watching Don McGowan on CTV. I looked up to him. I liked the way he did the weather. He had a lot of fun. In 1988, I started at Météo Média because Gary Plaxton convinced his bosses that I was the guy for the job. You need someone to believe in you. I was lucky to have him pushing for me because the other people in the boardroom did not want me. I might have never been on television [if it weren't for him]…That one door has to open; if it doesn't you may end up never knowing how it could have turned out.

Q: You stand out with your special outfits. How do you come up with these ideas?

A: I like to be different. I will never wear the same color two nights in a row. I like to mix and match my colors. Basically, you try to follow the fashion style. I'm risky sometimes. I like to wear a jacket that I know people may laugh at. I do that just for the fun of it. As long as people are talking about you, that's good. That means they're watching.

Q: How do you deal with your everyday stress? What is the most stressful situation you have experienced, either personally or professionally?

A: When I'm stressed, I'll work out at home. I'll go on my elliptical machine for about half an hour. I watch sports, as you know, I'm a big soccer fan. I also like driving while listening to music. I especially like it in the summer. You have to be able to cope with stress. I'm more stressed getting to work than being at work. There are good and bad days. When the weather's bad obviously, there's more stress because people are counting on me to tell them what's happening. I try to relax as much as possible. Personally, I'm mostly stressed when my Mom calls because I often have to justify myself about why I didn't say hello to someone that knows me (even if I didn't see them waving!). Professionally, it's stressful when my computers don't work.

Q: If you would have to choose from three different objects to bring on a desert island, what would you choose between zucchinis, soccer balls or Italian wine?

A: Zucchinis, because if you need food, you can eat it. You can defend yourself with it. A soccer ball is fun but you can't eat it. On the other hand, wine is good, but if you get drunk you're in trouble.

Q: One of your favorite movies is ''The Godfather''. Do you know Deano Clavet, professional boxer, actor and Godfather impersonator? He is a friend of mine and I brought you a souvenir.

A: (After receiving an autographed card with the picture of Deano as The Godfather) Thank you. I worked with him on the Omerta series and Scoop, in which I played a detective and a reporter. We met but we didn't shoot any scenes together. I recently worked on a TV series that's going to play in September on CTV.