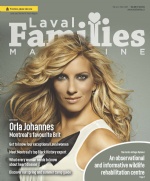 In The Latest Issue:
Latest Issue:
Rabbids Amusement Centre...
Maximizing Children's Po...
Special Needs Camp: A Fu...
We Day

BY:
Francesco Renda, Laval Junior Academy student
Issue 22
This year I had the honour of attending "We Day", which is an annual event of volunteers coming together that was founded by two brothers: Craig and Mark Kielburger. This is my third year attending this special event and every time it is such an inspiration to be there. There are many motivational speakers, actors and singers that share their stories so they can help promote and motivate the youth of today to help make the world a better place.

Ms. Sacks, Mr. Virone and members of Student Council of Laval Junior Academy had the privilege of seeing many special guests. I was also honoured to receive a special mention during the event for my involvement in Student Council. Events like these inspire me and everyone else to give back to not only our school and community, but to also think of other people that might need help in other countries.

Many motivational speakers and performers were present at "We Day" which was held at Théâtre St. Denis on February 24th, 2017. We saw actress and activist Mia Farrow who talked about her mission of helping the people of Darfur who struggle with poverty and hunger. Inspiring words also came from one of the co-founders of "We Day", Craig Kielburger. Craig and his brother Mark were about my age when they began their mission of volunteering in countries around the world that needed help. They began to raise money to donate to children in some of these poor countries so they can go to school and have a better life. These brothers are activists for the rights of children.

We were also inspired by Lieutenant-General Romeo Dallaire who is a Canadian Humanitarian. His mission is to end the recruitment of child soldiers and to always remember the people who died from genocide in Rwanda. He was a commander in Rwanda when this horrible tragedy happened. He strongly believes that all humans are equal no matter where we live in the world.

Martin Luther King the Third was amazing. He is the son of the Civil Rights Leader Martin Luther King Jr. and is a human rights advocate and community activist. One of the ideas he speaks about is non-violence. He was bullied as a child because of his skin colour and believes the solution to violence is not to be violent.

The people and performances were great and make everyone realize that we live in a "We" world and not a "Me" world. Thank-you to Laval Junior Academy, Ms. Sacks and Mr. Virone for this wonderful experience.