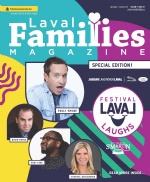 In The Latest Issue:
Latest Issue:
Laugh, Cheer & Celebrate...
It Starts with a Laugh…a...
30 Minute Hit is a Hit i...
Summer Fun for Everyone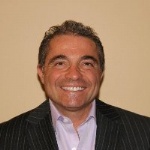 BY:
Luigi Morabito
Issue 23
As school children rejoice and families prepare for some well-deserved vacation time, Laval Families Magazine is gearing up for an exciting summer filled with bringing you all the most important inspirational stories of our city, and working hard to continue to inspire, educate and inform our readership. This issue is jam-packed with resources, ideas and tips to help our readers appreciate their city and all it has to offer, especially now that the warm season has arrived!

Our Cover Story
Discover the history behind the Société Alzheimer Laval and all the hard work that goes behind the scenes to support families and individuals living with Alzheimer's. Meet Lise Lalande, the Executive Director, and learn all about the surprising number of services available under one roof! Get the full story starting on page 6.

Summer Camp Guide
It's not too late to register your child for an awesome summer camp experience! Be sure to consult our summer camp section beginning on page 41 for invaluable tips and guidance on choosing the right camp for your child.

Family Summer Fun
You might also be planning some summer family fun for your vacation time, so be sure to check out page 14 for unexpected thrills at Village du Père Nöel if you're heading north! Or, head south of the border for an amazing family adventure at Smugglers' Notch. Plenty of details on page 40.

Featured in Laval
There is no shortage of family fun this summer with plenty of outdoor activities in your neighbourhood. The third annual Fête de quartier St-Bruno will take place this August. Read more about what you can expect at this event, and how you can help support a fantastic cause for the Société Alzheimer Laval. Details are on page 11.

Meet Your City Councillors
Your municipal councillors introduce themselves on page 20. Learn more about Ray Khalil and Nicholas Borne, city councillors of two distinct districts who strive to make Laval a better place for its citizens.

Young Authors Contest
Our "Journalist for a Day" contest continues to make waves with youth and the educational community. Check out pages 26-27 for two more celebrity interviews, this time with local stand-up comedian Franco Taddeo and 92.5 The Beat radio show host Shaun McMahon.

Helping Youth at Prom Time
Don't miss out on your chance to help teens in need at prom time. Read all about an amazing initiative happing right in our city, A Promise for Prom, and how you contribute to making high school graduation a positive and memorable experience for a teen in your community.

Health and Wellness
Discover a ground-breaking treatment method for youth suffering from Selective Mutism on page 22. You will learn about how one woman, in the search for treatment to help her young nephew, stumbled upon an entire body of research that not only gave her insight into her nephew's struggles, but her own as well!

Finding Spirituality Through Music
Most people associate spirituality with religion but it does not have to be not tied to any religious beliefs. Spirituality can be as simple as connection with something bigger than us and to feel a sense of interconnectedness that is not based in anyone or anything tangible. On page 38, learn about how a generation of youth is beginning to experience spirituality in a whole new way.

Fun Activities with the Family
This summer, rain or shine, there is always something interesting and new to do with the family. Be sure to check out our activities sections beginning on page 46 for plenty of ideas on planning your vacation days or summer weekends.

Little Swimmers, Little Ears
With all of the outdoor water activities taking place this summer, your children may experience some unwanted side effects from their swimming. Did you know that over 75% of children will suffer from otitis at least once before the age of three? Learn about best practices and prevention on page 25 to ensure you know what to do to prevent or properly treat any ear infections.

Contests
Be sure to check out all the amazing contests we have this summer for our readers and our Facebook fans and followers. You won't want to miss out on prizes from Putting Edge, Village du Père Nöel, Aux Petits Pas, Boston Pizza, and more!

Final Word
With the warm weather upon us, I encourage you to get outdoors and explore the far corners of our amazing and diverse city. As always, our team wishes you a very safe and relaxing summer holiday, filled with laughter and love with your families and extended families.