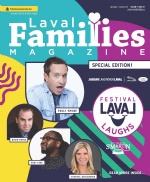 In The Latest Issue:
Latest Issue:
Laugh, Cheer & Celebrate...
It Starts with a Laugh…a...
30 Minute Hit is a Hit i...
Commemoration of the 100th anniversary of the Battle of Vimy Ridge

BY:
Vicken Darakdjian
Friday, April 28, 2017 – It was with great pleasure that Eva Nassif, Member of Parliament for Vimy, hosted an event to commemorate the 100th anniversary of the Battle of Vimy Ridge and celebrate Canada's 150th year of Confederation at the Embassy Plaza in Vimy-Laval. The event brought over three hundred people together to reflect on Canada's growth as a nation, our contributions to the world, and to remember those throughout history who have sacrificed so much so that we may prosper today.

As the first Member of Parliament for the Riding of Vimy that was created in the last federal election, Eva Nassif was humbled to have the great privilege of hosting such an important event for her constituents and the people of Laval. Many distinguished members of the armed forces and veterans were in attendance, as well as the Mayor of Laval, Marc Demers, several members of the Quebec legislature, city counselors, many religious groups, and local stakeholders.

"The battle of Vimy Ridge is a testament to the bravery of Canadians. To be the first Member of Parliament to represent a riding named after this important historic battle during the year of its centennial observance meant I knew I must honour the memory of our veterans. It's no coincidence that a constituent from Vimy, also a veteran from World War II, the late Fernand Trépanier, played such an important part in the naming of this riding after decades of campaigning the federal government. I think it is a great honour to our veterans of this battle and the memory of those who fought are immortalized in the riding's name, and it is fitting the centennial coincides with Canada's 150th year of Confederation." Eva Nassif.

There are many events taking place in Quebec and throughout the country for Canada150.