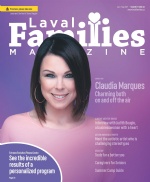 In The Latest Issue:
Latest Issue:
Judith Bougie: The Woman...
Spring in the City of La...
Claudia Marques: On and ...
Knowledge is Power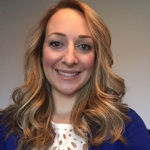 BY:
Maria Tutino
Issue 24
Deciding which school our children will attend may be one of the most important and difficult decisions that we make as parents. As residents of Quebec, we may have an additional decision between an English or French school. The success of the students graduating from the Sir Wilfrid Laurier School Board (SWLSB), however, may help to alleviate some of this stress.

Recent statistics place SWLSB in the top five of the province with an impressive 84% graduation rate. "The personalized attention given to our students and the involvement of the teachers both play a big role in the success of our students. I know very few teachers who are not there after school, during recess, lunchtime, or for extracurricular activities," states Jennifer Maccarone, Chair of the SWLSB Council of Commissioners and President of the Quebec English School Board Association.

The significant involvement of the community's volunteers also sets SWLSB apart from the rest. "Everyone is involved in the school board community when you are a minority and it makes a big difference—from parents, to business workers, to grandparents," says Maccarone.

With interesting pedagogical activities always available, there is considerable diversity in what the teachers and individual school communities offer to support their students. There is a variety of extracurricular activities so that students will enjoy their school life and be encouraged to stay in school.

SWLSB places great importance on their many adaptive and modified programs for at-risk students. "We have Phoenix Alternative High School for kids who just couldn't succeed in a traditional environment or maybe have been going through a lot in their personal lives. We make sure that these students have a place where they are a priority because they deserve to succeed and graduate," states Maccarone.

At SWLSB, students with special needs are also a huge focus, with 97% of their special needs students integrated directly into the classroom. "Neurotypical students learn compassion, empathy, acceptance, working with others, and that their community is very diverse; while those who are not neurotypical have the opportunity to model typical behaviour, build friendships, learn, and improve," says Maccarone. She explains that the exchange benefits everyone and believes that this has also been another secret to their students' success.

The school board is not only impressive in terms of its fantastic graduation rates, but is also first in the province of Quebec for French learning outcomes. Many of SWLSB's schools offer between 30 to 50% French in their curriculum. "We are immersed in the province itself and believe that if you don't learn French, you will be debilitated," states Maccarone. Hence the board's slogan: An English education, a bilingual future.

SWLSB is continuously looking for ways to grow and offer more to their students. The board is now working to bring in Sports Études and alternative curriculums geared toward science, math, and languages, which will help SWLSB to offer similar opportunities to students as the English Montreal School Board and Lester B. Pearson School Board currently offer.

To learn more about the SWLSB mission or how to register your child at one of their schools, visit the Sir Wilfrid Laurier School Board website at swlauriersb.qc.ca.