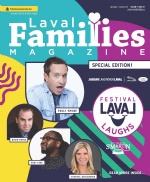 In The Latest Issue:
Latest Issue:
Laugh, Cheer & Celebrate...
It Starts with a Laugh…a...
30 Minute Hit is a Hit i...
Q & A with VAN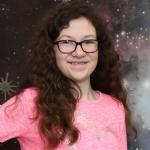 BY:
Sofia Verdone
Issue 24
Our Young Authors Contest winner for this issue is Sofia Verdone, a grade 6 student at Hillcrest Academy. Sofia had the opportunity to sit down with VAN, a major recording artist, for a one-on-one interview.

Q: How/when did you know that you wanted to be a singer?
A: I would say I wanted to be a singer when I was 7 years old and I noticed how much I loved singing and the feeling that I had inside of me when I sang.

Q: How and when did you realize that you were talented as a singer?
A: Well first, thank you for the compliment, it's very nice! I have always had my family there supporting me and giving me the confidence that I really needed at such a young age, so I believe that that's something that really helped me push myself forward with my dream and to keep on believing that I could really do something with my voice.

Q: Who helped you become a singer?
A: I believe that it's important to have people behind you helping you and supporting you with your dreams to give you the confidence that you need. But I also believe that it's also the hard work and having a passion for singing. But it's definitely the hard work though.

Q: What was the biggest show you ever sang in?
A: I would say when I sang for a televised contest called "Super Fantastico" and the second is the one called We Day; it was a super fun experience!

Q: Have you ever travelled to another country to sing or perform with someone else?
A: No I haven't yet, but in the future that will happen! I did go to South Africa to do a commercial for Canadian Tire. I was there for a week and out of that week, I filmed for only two days and the rest of the week was like a vacation for me.

Q: Do you ever get nervous before you go on stage? If yes what do you do to calm yourself?
A: Yes, I always get nervous when I go on stage and even until this day! I would say that to calm myself, I stay focused, like in my own bubble and I just take a couple of deep breaths.

Q: I've heard you have been in some TV commercials. Can you tell me about those experiences?
A: Yes, like I said before, I've travelled to South Africa to do a Canadian Tire commercial. I also did a commercial for Mike's (the pizza restaurant). I've also been in the movie "Grace". It was at a film festival and it was pretty fun.

Q: Have you ever thought about going on a show like La Voix or The Voice?
A: For now, since I have signed with Mungo Park Records I don't think it's the right path for me at this moment, because I have a great team behind me there right now, supporting me.

Q: How did you meet your manager and how did you get the record deal?
A: Well first of all, my teachers picked me to go to Starfest (a local talent show) and when I was auditioning I was 15 years old and one of the judges was Paolo, and so that's where I met my manager. I got my record deal with Paolo's help also.

Q: How many songs have you officially recorded in studio?
A: As of now I have officially recorded five songs but I'm actually going into studio to record another one, so that makes six official songs and I'm really excited about this new song getting recorded!

Q: Have you ever been in a choir?
A: No I haven't, but I heard you have!

Q: Do you have a job right now other than singing?
A: Well, for now my singing is taking up most of my time. It's my passion so I'm really putting my focus into it.

Q: Will you be touring in the near future?
A: Hopefully yes, because I would really like to travel the whole world and discover new places while touring. That's a dream of mine.

Q: What are the risks you need to take to become a pop star?
A: Well, I think that whatever you do in life you have to take risks, but the most important thing to do is just to stay focused on your dreams.

Q: What is your favorite food and drink?
A: Honestly my food mood changes about every week, but for now it's sushi and my favorite drink is water because I don't really drink any soda or juice.

Q: Do you speak any languages other than English?
A: Yes, I speak English, French and Italian.

Q: How old are you?
A: I am 17 years old.

Q: Tell me about your family. Do you have any siblings?
A: Yes, I have two older brothers: one is 23 years old and the other is 24 years old.

Q: Are your friends supportive of your singing career?
A: Yes, they're very supportive and that's very important to have people there behind you, supporting you and helping you.

Q: Have you ever experienced jealousy among your friends or acquaintances because of your success? A: I wouldn't say that, no, but some of them have different opinions. But the important part is to listen to the positive and not the negative because at the end of the day, the positive is what matters the most.

Q: What is your favorite song out of your own songs?
A: My favorite song out of all of my songs would be "Lock My Love Down".

Q: What type of music do you listen to?
A: Honestly, that really changes from day-to-day, like with my mood, but right now I love Justin Bieber, Drake and Rihanna.

Q: Besides singing, what is your favourite pastime?
A: Probably like most girls, it would be shopping. It's a cure to pretty much everything I believe. (laughs)

Q: Are you still in school? If yes, what are your plans for next year?
A: I am not in school at the moment because I'm just focusing on my album. But eventually, I will be going back to school.

Q: Who is your celebrity idol?
A: Since the age of 12 it hasn't changed—Justin Bieber.

Q: Have you had any trouble with people asking for your autograph?
A: Honestly, I never did because that's such a compliment and I'm just so grateful when people take the time to ask me for my autograph. It's a compliment; it would never be a problem to me.

Q: What are your top three tips for fans who want to be like you?
A: I would say the top three tips for fans who want to be like me would be to stay focused, to work hard and to just keep believing and dreaming.