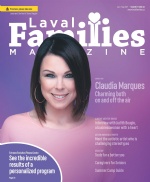 In The Latest Issue:
Latest Issue:
Judith Bougie: The Woman...
Spring in the City of La...
Claudia Marques: On and ...
Alain Trudel is on Double Duty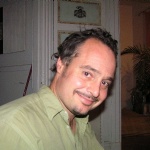 BY:
MJ Stone
Issue 24
Alain Trudel isn't going anywhere. For those of you who may have heard that the Musical Director of l'Orchestra Symphonique de Laval (OSL) was recently named the Musical Director of the Toledo Symphony Orchestra (TSO), worry not. Trudel is adamant; he has no plans to leave the OSL.

When the TSO position presented itself out of the blue, Trudel accepted with one condition. "I told Toledo that I'd accept as long as it didn't interfere with my duties with the orchestra in Laval," says Trudel. "I don't want to call the OSL my baby because I am not its founder, but this is where my heart is. And I plan to stay here as long as the community and powers that be want me."

Although he was aware that Toledo's Stefan Sanderling was vacating his Musical Director position, Trudel was unaware that he secretly auditioned as Sanderling's replacement when he guest-conducted the TSO last April. Unbeknownst to Trudel, he was part of a short-list of candidates established by the members of the orchestra to replace Sanderling.

"It is not the traditional way of hiring a Musical Director," explains Trudel, who notes that the musician's recommendations are seldom the starting point in the hiring process.

After he guest-conducted the TSO in the spring, the job was his for the taking. His 'audition' featuring Dvorak's Violin Concerto and Tchaikovsky's Fourth Symphony resulted in a unanimous vote to bring him on board.

When TSO President and CEO Zak Vassar introduced Trudel at a press conference, he called him the best of the 20 candidates who, like Trudel, were invited to guest-conduct the orchestra during the two years the TSO was searching for Sanderling's replacement.

Like Laval, with Trudel at the helm of the TSO, the orchestra will embrace the Maestro's ideological focus on three pillars of excellence. "Of course, there is the music making, but there is also the education aspect and community engagement that are also crucial," says Trudel. "An orchestra needs to be relevant to its community and city."

Trudel says the position provides him with a unique opportunity to work as a bridge that connects the two cities and believes both orchestras will benefit from the overlap. "It is an opportunity for Canadian talent to come to Toledo and make themselves known to an American audience. But the street runs both ways, and I see enormous crossover potential."

As Toledo's upcoming season has already been programmed, Trudel will function as Music Director Designate and will conduct two concerts during the 2017-18 season, including the music of Liszt, Mozart, and Rachmaninoff. In July 2018, when he officially leads the orchestra into its 75th season, he will become the symphony's ninth Music Director.

Trudel's position with the TSO coincides with renovations to the OSL's Salle André-Mathieu, including a new acoustic shell that was designed to launch a new era for orchestra. Trudel insists that the 2017-2018 season will bring great moments of music in the enhanced listening space. "But it's more than just music," he says. "Every concert will be an event."

Aligning with the Maestro's community mandate, one of those events is "Bébé musique" which returns Sept. 27th at 1:30 pm. "The performance is adapted for parents and their infants. Last year was sold out two weeks before it was held. It was a great afternoon. So, by popular demand, we're doing it again."

The Orchestra has lined up an excellent chamber music program in its Chambristes series at Chapelle du Mont-de-La Salle. The first concert will be presented on September 23rd, at 3:00 pm, featuring trios for oboe, French horn, and piano. The public may attend dress rehearsals in the Musique Maestro Memoria series, scheduled for 1:30 pm. This is a perfect opportunity for everyone to discover music and meet the musicians. These presentations are accessible, appealing, and inviting for all audience members.

The season also features OSL's talent, Principal Clarinetist Jean-François Normand performing Mozart's Clarinet Concerto in A major at 7 pm on Sept. 27th. Dvořák's 7th, the first work that Trudel conducted with the OSL 10 years ago, will also be performed.

Trudel says that opera lovers will be thrilled to discover that Marie-Josée Lord will be performing on October 25th, and that the flamboyant Soprano will present some of her favorite arias with the Orchestra.

Trudel also notes that on December 13th, the Orchestra will play pieces from the traditions of the world accompanied by the Petits Chanteurs de Laval. The internationally celebrated choir is the largest organized choir in Quebec and will perform for an evening of music featuring George Bizet's L'Arlesienne Suite no. 2 and Nikolai Rimski-Korsakov's Russian Easter Festival Overture.

Venezuelan Pacho Flores, one of the greatest trumpeters, will grace Canadian stages for the first time. He is a genuine trumpet superstar and the only instrumentalist who has recorded for the renowned Deutsche Grammophon label. Here's a noteworthy point: Pacho Flores learned the trumpet through the El Sistema program that makes classical music available to more than 250,000 young Venezuelans each year. On March 14th, 2018, Flores will perform the Neruda Trumpet Concerto in E-flat major and South American works with the Orchestra, including Astor Piazzolla's "Invierno porteño" from Las cuatro estaciones porteñas. The audience will discover five various trumpets during the concert!

The piano will be at the forefront twice during the season, beginning by welcoming Charles Richard-Hamelin, Quebec's rising piano star and silver medal winner at the 2015 International Fryderyk Chopin Piano Competition in Warsaw, Poland. Richard-Hamelin will be a special guest in Brahms's Piano Concerto no. 1 in D minor on February 7th, 2018. In addition, the Orchestra will enable concertgoers to experience an immersion in the world of Lorraine Desmarais, a jazz pianist who will exceptionally perform a classical work: Ravel's colourful Piano Concerto in G major. This is a must-see concert scheduled for April 25th, 2018.

As if the new season's announcements couldn't get better, fine food lovers will be pleased to note another new addition in next season's lineup. The OSL welcomes audience members to arrive at Salle André-Mathieu at 6:00 pm for a meal before concerts. Au panier de Chomedey staff will prepare foods and serve members in the hall's foyer.

For more information about the OSL and its Fall schedule, visit osl.qc.ca.