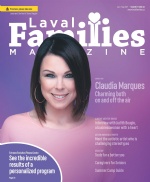 In The Latest Issue:
Latest Issue:
Judith Bougie: The Woman...
Spring in the City of La...
Claudia Marques: On and ...
Being Grateful at Franklin Hill Elementary School

BY:
Liburdi Christina
Issue 24
Have you heard of Franklin Hill Elementary School, in Repentigny? Well, we have been up to some great things, and we wanted to share some of it with our Sir Wilfrid Laurier School Board family.

In a school environment, everyone is used to fundraising, but Franklin Hill's PPO decided that it wanted to find a different way to bring our community together. With the collaboration of many dedicated teachers, students, daycare, administration, and volunteers, we at Franklin Hill started a Gratitude Challenge, which was done for a second consecutive year in 2016-2017.

What if, today, we were just grateful for everything?

PPO had a hopeful idea: each day, in every classroom, one student would get the opportunity to share what they are grateful for. Then, they would present it to their classmates, and write it out on a paper. The goal was that the children would start to understand that life is about living in the moment, appreciating the simple things. They would begin to realize that an iPad or cell phone could not replace what is truly important.

In a time where many things are expected, and taken for granted, we tend to forget what really matters. At Franklin Hill, we decided that being grateful every day is something that we want to encourage and share. PPO has created a gratitude wall, and we have put up all the beautiful messages of thankfulness that the students have written down. Students stop during recesses and lunch breaks to read what other students are expressing gratitude about. It is beautiful to see their faces when they notice that it does not need to be complicated to be grateful for what we have: a simple snowflake, or a visit from an uncle or aunt, can make someone's day.

We have noticed that since we started this Gratitude Challenge within our school, students have begun talking with their friends about what makes them happy. We have witnessed how a simple thank you can put a smile on another child's face. It is powerful to see how realizing that the friend that they have always played with or did a project together was grateful that they were able to join soccer, and scored their first goal. It is special to read that a child is thankful that their grandma just came back from vacation.

For me, as a parent and the PPO president, parents would come up to me at school or send me an email. They would tell me how they have implemented expressing gratefulness before suppertime, and that is when I noticed how a simple challenge within our school was touching many hearts and homes. To me, that was fantastic! A parent told me that being grateful has helped her with her anxiety, because she realized how many things in her life she had for which she was thankful. It also allowed her to attempt to live in the moment and appreciate the simple things. In my mind, if we can bring families together at the dinner table and have them talking about what is essential, then we have formed a community.

As Kindergarten teachers at FHE, Audrey Kannon and Stacey Andreopoulos were able to hear first-hand what their little students are grateful for. The concept of gratitude had to be presented in its simplest form to make sense for these young learners: what in your life do you say, 'Thank you' for, that you know you are lucky to have? The answers varied, but the essence of the concept was understood. Students were grateful for "family", "bunk beds", "my three dogs", "being able to go rock climbing", and "my teacher", amongst other things. To be able to make children realize that they are fortunate to have some of the simplest things in life was a valuable learning experience for all!

We would love to extend our challenge to all of Sir Wilfrid Laurier School Board's schools! Start your own gratitude challenge and see how just a simple thank you can brighten someone's mood and allow them live in the moment. We would love to see how the Gratitude Challenge can make a difference, and bring gratitude to our fellow schools. Working together as a community can only make us better and stronger.

It is very simple! Allow the children to present what they are grateful for, and then have them write it on a piece of paper. Give every student the opportunity to share by designating an area where you can hang up all of the messages of thankfulness, and see the students' reactions.

Let us bring our community together through an outpouring of appreciation, and let the wave of simplicity take over our schools. Share on your school website, or Facebook, so that the wave of gratitude will be noticed.