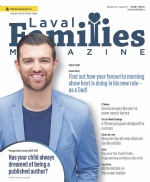 In The Latest Issue:
Latest Issue:
The Natural Heritage of ...
November: Runaway Preven...
10 Candles for the Pédal...
From Our Family to Yours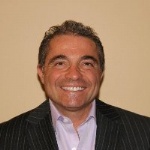 BY:
Luigi Morabito
Issue 25
Coming off the heels of our 5th Anniversary celebration this past Fall, we now ease into another celebratory period of the year, the holiday season. Though the weather has cooled, here at Laval Families Magazine we are fired up about the new year to come, and the many exciting developments in and around our city, especially now that the hockey season with our own Le Rocket de Laval has begun at Place Bell!

This issue, our cover story gets up close and personal with Shaun McMahon, the voice of popular radio shows Saturday Party Jam and the Weekend Breakfast on The Beat 92.5. Not only will our readers get to learn about the incredible career success of this Lavaller, but we also get a glimpse of what goes on outside of the studio, and how McMahon strives to be a community-driven citizen any chance he gets. You'll want to check out this story on page 8.

Though we are sliding into the holiday season and bundling up to brace for the cold, it's never too early to start thinking about your 2018 summer plans! Enter Laval Families Magazine's Summer Camp, Activities and Vacations Expo happening this February! This is sure to be an exciting event for the whole family, as participants will have the opportunity to meet with representatives from various summer camps for kids, vacation destinations and even explore the many interesting family fun activities our city and surrounding areas can offer. Learn more about this event on page 14.

Since our readers may likely have some winter holiday vacation time with the family, I encourage you to check out some of the not-to-be-missed winter activities happening in our city, starting on page 52.

As always, we strive to bring you exciting contests to participate in, where there truly is something for everyone. Our contest section this issue is on page 55. Speaking of contests, our 2017-18 Young Authors Contest is in full swing, and the first round of winners have completed their celebrity one-on-one interviews. Don't miss those Q & A's starting on page 42, and if you know of a student who would love to participate, be sure to share the details of the contest on page 57.

From our family to yours, the entire team at Laval Families Magazine wishes you, our readers, a very merry holiday season, and the happiest of New Year's celebrations for 2018. May you be blessed with health, happiness and good cheer as we ring in 2018.