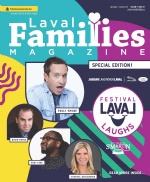 In The Latest Issue:
Latest Issue:
Laugh, Cheer & Celebrate...
It Starts with a Laugh…a...
30 Minute Hit is a Hit i...
Cité de la Santé Hospital: Extraordinary Team Work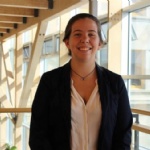 BY:
Malika Schneider
Issue 25
A mother of seven children, Julie Dussault received care at the Hôpital de la Cité-de-la-Santé in Laval to give birth to her seventh child in 2017. "It was a great experience," says Dussault, but her experience was anything but ordinary. Diagnosed with breast cancer during her 24th week of pregnancy, she was followed closely by several teams such as Oncology and Maternity.

From the time of her diagnosis, Dussault was followed by the team at the Breast Cancer Clinic of Hôpital de la Cité-de-la-Santé and due to her high-risk pregnancy, she was cared for by the GARE clinic as well, a special unit for future mothers who have complicated pregnancies and require unique care. Dussault gave birth to a baby girl, Maude, at Hôpital de la Cité-de-la-Santé. Maude was born premature, and was immediately cared for by the neonatal team, a perfect example of collaboration across various professional healthcare teams.

"I only have good words to say," says Dussault, of the care she received at Hôpital de la Cité-de-la-Santé. "I was well cared for and surrounded. I was like a member of their family. It was a human approach. They are still interested in my health and that of my baby, even after the fact."

An enriching experience from all points of view
Kim Lampron, from the neonatal department of Hôpital de la Cité-de-la-Santé, says that the multidisciplinary team work is a major strength at the CISSS, for the safety and security of both the mother and the baby.

What's more, the coordination of complex services for the family and efficient communication across different service departments, particularly with the GARE, are an asset when it comes to the mother and newborn's experience.

Several essential services
The Maternity Ward, the Mother-Child Unit and the Neonatal Unit for special care are all available at Hôpital de la Cité-de-la-Santé. There are 221 staff members across the three departments, each with their own distinct role to play in the birth of over 4000 babies annually. The teams are made up of doctors, assistants, head nurses, administrative personnel and more. The CISSS of Laval is one of the largest birthing centers in Quebec. The Pediatric Ward has 20 beds available for patients 0 to 18 years old.