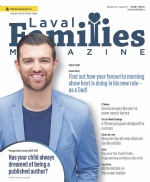 In The Latest Issue:
Latest Issue:
The Natural Heritage of ...
November: Runaway Preven...
10 Candles for the Pédal...
Interview with Derick Fage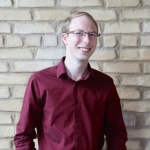 BY:
Nicolas Menard
Issue 25
Our Young Authors Contest winner for this issue is Nicolas Menard, secondary 5 student at CDC Lachute. Nicolas had the opportunity to sit down with Derick Fage, host of Breakfast Television Montreal, for a one-on-one interview.

Q: Tell me about the home environment you were born into, and your childhood hometown. Where did you grow up?
A: I grew up in Ottawa, just in the outskirts of Ottawa, in a city called Nepean which today is still a part of Ottawa. I actually had a wonderful childhood. I grew in an area called Arlington Woods in Nepean and I was very lucky as a child because our house backed onto a creek so I spent hundreds, if not thousands of hours in that creek exploring, catching frogs, enjoying nature, playing with friends, playing hide and go seek… I was really an outdoorsy kid and my mom and dad were as well, so we did a lot of things outdoors, we went hiking quite a bit, we took drives into the country, visited family that lived in the country…I had a really nice upbringing.

Q: Tell me about your educational experiences growing up.
A: I never went to university. I had my troubles going through high school, and I actually dropped out of high school three times, but finally graduated. I had difficulty concentrating in high school for number of reasons, I wasn't a really good student. When I finally graduated from high school my parents were pretty darn happy, but I fell in love with quite a few things in high school: drama and theater were one thing, and sports. But I did go from school to school. I had trouble hanging on to any particular school and then I got a job right out of high school.

Q: What motivated you to become a TV Star, and how did you get into that line of work?
A: As I said I fell in love with drama and acting and I found it to be a great outlet because I had my issues with bullying. It [being bullied] was pretty relentless at times, so when that happens you try to find something that you can focus on and my parents certainly helped me focus on sports too. They were both quite athletic so they certainly encouraged me getting into sports. But drama and theater, I just sort of found on my own. I started writing plays, and I was acting in them. I decided that for a living I wanted to be an actor. I didn't necessarily think I'd become a TV host; I thought I'd be acting on television or in a film or perhaps on a stage. That was really my passion.

I was in Ottawa and an ad came out in the paper and they were looking for a host for a new television show called Daytime Television. It was sort of a lifestyle show but very community-orientated…very grassroots. At the time, I was doing a lot of roles in B movies where I wasn't necessarily getting paid but I was getting fed, so my resume looked pretty good.

I didn't even have a camera to send in my audition, so I borrowed a camera from my dad and filmed my audition. Three days later they called me up to come in and do a LIVE audition. In the end, it was a public vote for which host was chosen, and I ended up getting the most votes, so that's how I got the job!

Q: Tell me about your health condition that you've had since birth, Fecal Incontinence. What have you had to go through in your childhood and adult life due to this condition?
A: I was born with what's called an imperforate anus, which means I was born without one and they [doctors] had to create one through surgery. I was also born without a sphincter muscle—that's the handy little muscle that holds everything up, which basically made me incontinent for life, so in the early years it wasn't too bad, because every kid wore a diaper, but I wore diapers till I was thirteen years old. It was certainly hard to hide from kids in elementary school, and I got bullied quite a bit. It was relentless at times, both physical and mental bullying. And then going through high school when I got into my mid-teens, I stopped using diapers because, what are you gonna do, go to someone's house for a sleepover and bring a bag of diapers with you?

I'm going to do a talk in Rome very soon about this condition. I've actually been invited to speak at the global forum for incontinence, as a patient advocate.

Q: What would you most want people to understand about the condition, and what therapies, treatments, and support groups exist for individuals with this condition?
A: There aren't a lot of support groups right now because people don't want to talk about it. What I want people to know is that we need to use different language about it because we always sort of scurry around the issue and we call it things like containment strategies, and toileting…I think that's one of the reasons that I wanted to do the TEDx talk, just to paint the picture. I've had accidents so bad that I had to pin my pants into my socks so it doesn't leak on the floor. I want you to understand that it could be that bad. It's understanding the severity of it and the cost of it, to buy the products that are on the market. There are a lot of great products today, but healthcare doesn't cover those costs, just like a lot of other things. It becomes very difficult, and I'm pretty lucky that I make a good enough salary if I wanted to buy the products, I can afford it, but I think people that are trying to get by paying the rent and get food in their kids' tummies… the average person can't afford it.

Q: Tell me about your acting career and the independent movies you acted in.
A: I did a number of different ones. My most memorable was a movie called Iron Soldier which my stepson and his friend absolutely love. Again, it was a B movie but I played the lead scientist creating this military robot, and I leave the premises after a day to go to meet my family and it gets taken over by terrorists because they wanted to get their hands on this military robot. In the movie, I'm the only scientist outside the building that hasn't been held hostage by these people so of course I'm sort of the action hero of the film and I have to rescue and save the day, and that was a lot of fun. I also played a spy in a movie called Spy Fall, which was a parody on the James Bond film, and I got to play one of the secret agent characters. I got killed off pretty early in the film, but I still had some great scenes in the movie and it was a lot of fun.