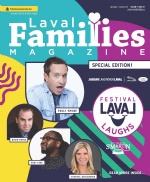 In The Latest Issue:
Latest Issue:
Laugh, Cheer & Celebrate...
It Starts with a Laugh…a...
30 Minute Hit is a Hit i...
Summer Camp Expo: A Wide World of Opportunity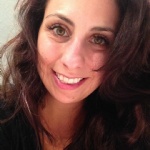 BY:
Lisa Cipriani
Issue 25
While it can be daunting to figure out what to do with the family and kids during the March Break or summer holiday, it doesn't have to be! Enter the First Annual Laval Families Magazine's Summer Camps, Activities & Family Vacation Expo!

Happening February 11th, 2018 at the Embassy Plaza in Laval, this day-long Expo is sure to be the number one informational event of the season! Participants will have the opportunity to meet with representatives from a large number of camps, family activities services as well as vacation destinations. What's more, whatever the weather outside, the event makes for a great day out of the house. Free entertainment, door prizes and activities for kids will be on hand, with free parking on site.

Find Out What You Didn't Know You Need to Know
Whether you are planning your first family vacation or looking for new ideas, or whether you already have a go-to favourite summer camp for your child or not, it's worth making a day out of this event. Expos are amazing opportunities to discover everything your city and surrounding areas can offer.

Exhibitors will be on hand all day long from 9:30 am to 5:00 pm, giving you insider tips on the all the best and most intriguing family fun activities, vacation destinations and summer camps, here and abroad!

Spending the day perusing all the options and speaking to the exhibitors will give you quality time to make the best decisions for your children and family. What better way to do your research on your family's next big adventure? You'll have a one-stop shop event with access to dozens of informative kiosks, videos and representatives from the very services you might already be considering.

Spring and Summer Camps
When it comes to choosing a camp for your child, it helps to have a checklist of sorts or at least some comparable services to stack up against one another. The age and interests of your child can play a huge role in what lights them up in a camp setting. Is your child more artistic, sporty, academic, outdoorsy, or all of those things?

Are you more comfortable with a camp that has a low monitor to child ratio? That serves catered lunches? That takes children on local excursions? That prioritizes time spent in nature? How about the qualifications of the monitors? How about the location or building where the camp is to be held? Preparing a list of questions for exhibitors in advance ensures that you will leave no stone unturned.

Visiting the Expo is not only a huge time saver for parents, but it also allows your child to explore and discover new interests or pique their curiosity about a new skill they might learn. Have your child prepare a wish list of activities he/she would like to experience over the spring and summer period, and compare this wish list to each exhibitor's offerings and see which ones come the closest to suiting your child's wishes and needs along with your comfort level as a parent.

Family Fun Activities
If you're the type of parent who loves to plan out your summer weekends in advance, this is the event for you! Seeking out new and interesting family fun activities around the city and surrounding areas is just the ticket to making wonderful memories with your family during some well-deserved downtime.

The Expo will allow you to discover new outdoor and indoor family activities for all ages, and take advantage of early-bird specials or season passes.

Vacation Destinations
Whether you're into local hidden gems or travelling abroad, visiting the Expo will help you get clear on your must-haves for your next family vacation or mini adventure! Chat with travel expert exhibitors who will ensure you can weigh the pros and cons of different travel destinations and family packages.

Have you checked who needs their passport renewed and by when? Which vaccines you might need to travel to certain parts of the world? Which resorts offer handy services like babysitting or activity packages just for kids? All these considerations and more will be discussed at the Expo, and you won't want to miss out on essential information to help make your next vacation one for the books!

Be an Exhibitor
If you have a camp, family activity or vacation destination service to offer and would like to be an exhibitor, you might be interested to learn that Laval has a population of more than 435 000. With an 'open to the public' event such as this Expo, your business or service will have direct access to families across the city and surrounding regions, no matter the weather outside!

Laval Families Magazine and Laval en Famille Magazine, the Expo's organizers, have a readership of 100 000 and 150 000 respectively. With a combined total of more than 100 000 copies in print and a heavily visited website, your business or service will have far-reaching visibility with this one event alone. In fact, the magazines' distribution statistics indicate that almost 50 per cent of households that receive the magazine at their door have more than two children. In recent years, events organized by the magazines have attracted 3.3 adults per child.

For more information about the event or to become an exhibitor, visit lavalfamilies.ca.