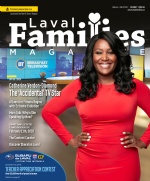 In The Latest Issue:
Latest Issue:
New Year, New Attitude!
The 'Accidental' TV Star
The Subaru de Laval Expe...
Community Garden
Laval Junior and Liberty High School

BY:
Daniel Johnson
We are in the process of building our community garden and science park.

If you would like to participate and have a vision for being green please contact Daniel Johnson at 450-688-2911 ext. 9045, djohnson@swlauriersb.qc.ca.