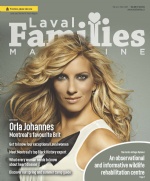 In The Latest Issue:
Latest Issue:
Rabbids Amusement Centre...
Maximizing Children's Po...
Special Needs Camp: A Fu...
Crestview C.A.R.E.S.
A support group for parents with special needs children
---

BY:
Ms Goyetche, Principal Crestview Elementary School
This group is intended to bring special needs parents together for the purpose of building strong networks. It is important for parents to have the opportunity to feel supported and understood by others that are traveling the same road. Being that there is no English based parent support group. We, at Crestview, feel this is too important to ignore.

CRESTVIEW C.A.R.E.S.

make connections,

we learn from one another,

distribute resources,

establishing supportive friendships & to share experiences,

and exchange strategies.



Come meet CRESTVIEW C.A.R.E.S. at Crestview Elementary School,

Every last Thursday evening of each month at 7:00 pm.

RSVP or more information mhgoyetche@swlauriersb.qc.ca or call
450-681-6703 ext 5210.