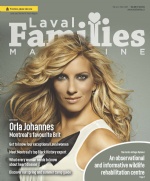 In The Latest Issue:
Latest Issue:
Rabbids Amusement Centre...
Maximizing Children's Po...
Special Needs Camp: A Fu...
Tennis as a Family
SCHEDULE:
Wednesday, July 18, 2018 18:00 - 20:00

Friday, July 20, 2018 18:00 - 20:00

Wednesday, August 01, 2018 18:00 - 20:00


Every summer, the City of Laval organizes this sporting event to bring together fans of the sport and to emphasize the importance of daily physical activity. Tennis instructors developed the various activities and workshops to promote the game between parents and their children.

Games, entertainment and door prizes are waiting for you!
<
December 2018 January 2019 February 2019 March 2019 April 2019 May 2019 June 2019 July 2019 August 2019 September 2019 October 2019 November 2019 December 2019
>
▲