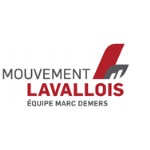 Mouvement Lavallois - Équipe Marc Demers
ABOUT:
The Mouvement Lavallois was established in the fall of 2008 and officially founded in March 2009 by a group of citizens willing to get involved in the political life of Laval. The Mouvement Lavallois is young, dynamic and changes according to its members who are increasing in number day by day.

Having taken power on November 3rd 2013, with Marc Demers elected as mayor and 17 out of 21 elected on the city council, the Mouvement Lavallois puts an end the daily disorder at City Hall. By its philosophy and core values, the Mouvement Lavallois wants to insure that the elected officials and the administration are always accountable to their citizens. Thus, in its first months in office, the Mouvement has brought a breath of fresh air to Laval's administration.The Mouvement Lavallois lives thanks to its citizens and it is there for them. It continuously encourages and helps citizens in having their voices heard at City Hall.