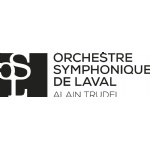 Orchestre symphonique de Laval
LOCATION:
3235 Boulevard Saint-Martin Est, bureau 203
,
Laval
(
QC
)
H7E 5G8
MAP
ABOUT:
The Orchester symphonique de Laval (OSL) is one of the most important arts organizations in the Laval region. Founded in 1984, it consists of fifty-three professional musicians who graduated from conservatoires and universities in Quebec. For 30 years, the Orchestra has given itself the mission of making the symphonic music heard and shared in a spirit of conviviality and proximity. Now headed by Alain Trudel, one of Canada's most sought-after conductors, the Orchestra has in the past benefited from the talent and expertise of seasoned conductors: Gilbert Patenaude (1985-1987), Paul-André Boivin (1988-1993), Jacques Lacombe (1993-1995) and Jean-François Rivest (1995-2006). Each year, the Orchestra offers six to eight symphonic concerts as part of its Les Grands Concerts series at Salle André-Mathieu.

The summer season is an opportunity for the Orchestra to meet the public and offer open-air concerts. Since 2014, the Orchestra has been offering commented concerts at 1:30 pm, at the time of the general meeting. These concerts are the occasion for moments of privileged exchanges between the conductor, the soloists, the musicians and the public, as well as during the concerts of the Series Chambristes. Young people attending elementary and high school are at the heart of several initiatives of the Orchestra that invites them to play, compose or listen to classical music! In 2013, the Conseil québécois de la musique awarded the Orchestra the Opus Young Production Award of the Year for Pierre, Babar and the Wolf. In 2015, the Orchestra published a disc, the first under the direction of conductor Alain Trudel - Respighi: Il Tramonto with soloist Isabel Bayrakdarian - under the label Atma Classique. Nicolas Gilbert is the composer-in-residence of the Orchestra since 2014.