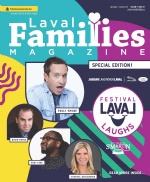 In The Latest Issue:
Latest Issue:
Laugh, Cheer & Celebrate...
It Starts with a Laugh…a...
30 Minute Hit is a Hit i...
Les Fantastix
LOCATION:
SALLE ANDRÉ-MATHIEU
|
475, boul. de l'Avenir
,
Laval
(
QC
)
H7N 5H9
MAP
SCHEDULE:
STARTS:
Friday, August 31, 2018

ENDS:
Saturday, September 01, 2018

COST:
À partir de 49.60$ / From $49.60
An experience that promises to surprise, dazzle and entertain the public to the highest degree!

The secret society MentiX Mantra ensures the development of humanity and the achievement of its full potential by focusing on the last frontier: the human brain. It is in this fictional universe that evolves the FantastiX, four superheroes with multiple talents, accompanied by a mysterious guide in a mission that is unprecedented in our time.
<
June 2018 July 2018 August 2018 September 2018 October 2018 November 2018 December 2018 January 2019 February 2019 March 2019 April 2019 May 2019 June 2019
>
▲