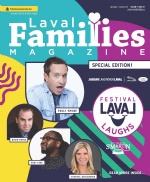 In The Latest Issue:
Latest Issue:
Laugh, Cheer & Celebrate...
It Starts with a Laugh…a...
30 Minute Hit is a Hit i...
Sainte-Rose Symposium
LOCATION:
Galerie La Vielle Caserne
|
216, boul. Ste-Rose
,
Laval
(
QC
) ,
Canada
H7L 1L6
MAP
SCHEDULE:
STARTS:
Thursday, July 26, 2018

ENDS:
Sunday, July 29, 2018

Every year, this art celebration draws some 25,000 visitors to a charming spot in the Sainte-Rose neighbourhood in Laval, where some 90 painters and sculptors set up their workshops and invite the public to watch them create. The site is readily accessible, just minutes from highways 15, 440 and 640.
<
June 2018 July 2018 August 2018 September 2018 October 2018 November 2018 December 2018 January 2019 February 2019 March 2019 April 2019 May 2019 June 2019
>
▲