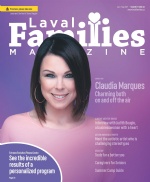 In The Latest Issue:
Latest Issue:
Judith Bougie: The Woman...
Spring in the City of La...
Claudia Marques: On and ...
Youth OutingsĖLe loup NoŽl
SCHEDULE:
Sunday, December 16, 2018 14:00


Master Griboux, an old lassish and lonely Laurentian wolf, has nothing to eat. Hungry and attracted by the lights of the church, he goes down to the village on Christmas Eve. Refined and magical, the piece marvelously combines the story of a traditional tale with the music of Quebec band Bon Dťbarras. Le loup NoŽl is taken from Claude Aubryís book of the same name. Placed on tulle during the show, Pierre Prattís illustrations come to life and, accompanied by traditional music, plunge us into the enchantment of the Christmas of the past.
<
February 2019 March 2019 April 2019 May 2019 June 2019 July 2019 August 2019 September 2019 October 2019 November 2019 December 2019 January 2020 February 2020
>
▲