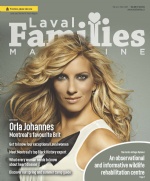 In The Latest Issue:
Latest Issue:
Rabbids Amusement Centre...
Maximizing Children's Po...
Special Needs Camp: A Fu...
Play-show: Chrysanthemum Hotel
LOCATION:
Maison des arts de Laval |
SCHEDULE:
Thursday, December 06, 2018 20:00 - 21:30


Two actors set out to play two old lovers who meet again, except the actors don't quite love the script. The author of the play does not know how to persuade them to play everything she has written. The actress no longer accepts to undress, as previously agreed. The actor is worried about his memory that begins to fail him. The young director tries to help bring everything together because the show must go on!
<
November 2018 December 2018 January 2019 February 2019 March 2019 April 2019 May 2019 June 2019 July 2019 August 2019 September 2019 October 2019 November 2019
>
▲