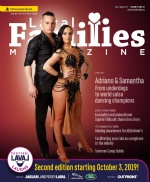 In The Latest Issue:
Latest Issue:
Another Exciting Summer ...
One Step at a Time
The Second Edition of Fe...
LES GRANDS CONCERTS : CHAMPION! TRIBUTE TO BRUNY SURIN
HOSTED BY:
Orchestre Symphonique de Laval
SCHEDULE:
Wednesday, February 13, 2019 19:30


Continuing in the tradition of Tributes to Laval's Great Citizens series, the Orchestre symphonique de Laval offers an exciting concert with a very special guest… Bruny Surin! Alongside Tchaikovsky's thrilling Little Russia Symphony, experience the rush of a champion's adrenaline with John Williams' Olympic Fanfare. Finally, take part in an intriguing hockey game… The evening will pass by at lightning speed!
<
May 2019 June 2019 July 2019 August 2019 September 2019 October 2019 November 2019 December 2019 January 2020 February 2020 March 2020 April 2020 May 2020
>
▲