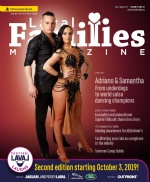 In The Latest Issue:
Latest Issue:
Another Exciting Summer ...
One Step at a Time
The Second Edition of Fe...
LES GRANDS CONCERTS: SPIRITUAL ARMENIA
HOSTED BY:
Orchestre Symphonique de Laval
LOCATION:
SALLE ANDRÉ-MATHIEU |
SCHEDULE:
Wednesday, March 27, 2019 19:30


COST:
À partir de 61,50 $ / À partir de 61,50 $
Moving and profound, Armenian music is a witness to the rich heritage of this country, endowed with a long history. In collaboration with the Armenian Prelacy of Canada, the Orchestra invites you to discover Komitas, an Armenian composer whose works, imbued with great spirituality, will move you right to the heart. The Tragic Overture of Brahms and Ravel's Tombeau de Couperin complete this inspiring program, which also features the extraordinary pianist Louise Bessette.
<
May 2019 June 2019 July 2019 August 2019 September 2019 October 2019 November 2019 December 2019 January 2020 February 2020 March 2020 April 2020 May 2020
>
▲