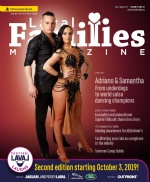 In The Latest Issue:
Latest Issue:
Another Exciting Summer ...
One Step at a Time
The Second Edition of Fe...
Outings For young Audiences- Traversée
HOSTED BY:
Maison des Arts
SCHEDULE:
Sunday, February 17, 2019 14:00




Theater for ages 10 and up
One day, Nour has to leave her nanny, Youmna, to go to a place where she can have enough to eat, where the girls can go to school and where, she is told, her real mother is waiting for her. Dressed as a boy, Nour leaves with strange smugglers. Her only luggage is a tiny box which she vows to open on the first day of her life as a woman. So begins the crossing, a fight for survival.
<
May 2019 June 2019 July 2019 August 2019 September 2019 October 2019 November 2019 December 2019 January 2020 February 2020 March 2020 April 2020 May 2020
>
▲