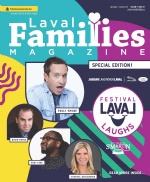 In The Latest Issue:
Latest Issue:
Laugh, Cheer & Celebrate...
It Starts with a Laugh…a...
30 Minute Hit is a Hit i...
Polls Archive:

Quelles astuces utilisez-vous pour aider votre enfant à travailler sa mémoire?

À quelle fréquence portez-vous un écran solaire?

Que fait votre enfant pour rester occupé pendant les vacances?

Quels festivals allez-vous fréquenter cet été?

Participerez-vous à un spectacle ou participerez-vous au volet extérieur du Festival Laval Rires?

Avez-vous déjà fait un don à Cité de la Santé?

What are some of the tips you use for a healthier camp lunch?
Use wraps instead of bread
33.3%
Use leftovers wisely
66.6%
Make smart swaps
0%
Refresh the refreshments
0%

Have you ever donated to Cité de la Santé?

Which myth were you aware of regarding exceptional students?
Exceptional students will always be smart and don"t require guidance.
20%
Gifted children and gifted programs are elitist.
0%
All gifted children get high grades, are good at everything and will succeed in life.
40%
Early entrance and grade skipping are harmful for gifted students.
0%
Children with learning difficulties cannot be gifted.
20%
None of the above
20%
All of the above
0%

Which festival will you be attending this summer?
Festival Laval laughs
60%
Laval's beer festival
20%
Fête du Quartier St Bruno
0%
Montreal's Italian week
20%
19th annual family festival
0%