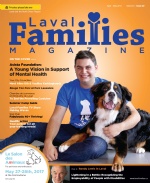 In The Latest Issue:
Latest Issue:
Asista Foundation: A You...
We Can Inspire Others wi...
What Can Teachers Do Whe...
Polls Archive:







Are you familiar with all the new mortgage rules that were adopted in October 2016?
No, it is very confusing
100%
I think I need to better familiarise myself
0%
No I have kept up with the updates
0%

Is it difficult to find activities to do with your newborn?
Yes, it could be useful to get some ideas
100%
No, we tend to mostly stay home
0%
No, we mostly do outdoor activities
0%

Were you aware that Laval Families Magazine has a new Tv Show on TVRL?
Yes!
33.3%
NO, what great news!
66.6%

Do you feel that your child's procrastination is getting worst?
Yes
100%
No
0%
It seems to be slowly getting worst
0%