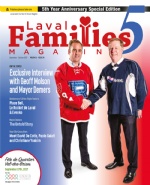 In The Latest Issue:
Latest Issue:
We've Grown Up with a Wh...
Place Bell: Laval's Newe...
Le Rocket de Laval: Forg...
Polls Archive:

Do you know what Selective Mutism is?

Have you been to the Village du Père Noël with your family?
Yes we go there every summer
100%
No
0%
We are definitely going this summer
0%

Can you find spirituality through music?
Yes I can, I have experienced it
0%
Not really
100%

Did you know that Horseback Riding could be therapeutic?

Do you know about 2-1-1: The New Service Available to Laval Residents?

Are You aware that there are new regulations for Pets in Laval?