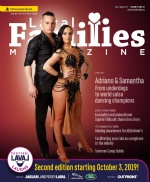 In The Latest Issue:
Latest Issue:
Another Exciting Summer ...
One Step at a Time
The Second Edition of Fe...
Polls Archive:

Êtes-vous déjà allé voir un magicien effectuer un acte magique?

Comment aidez-vous votre enfant à surmonter son anxiété face au camp? Vous :
Les rassurer
50%
Les aider à être plus autonomes
50%
Les impliquer a la préparation
0%
Les montrer votre empathie
0%
Mon enfant n"est pas stressé pour aller au camp
0%

À quelle fréquence lis-tu?
Tous les jours
100%
Quelques fois par semaine
0%
Quelques fois par mois
0%
Rarement
0%

Que faites-vous pour réduire vos déchets?
Utiliser des sacs réutilisables
50%
Éviter d"acheter des produits suremballés
0%
Composter
33.3%
Autre
16.6%

Quelles activités ferez-vous le plus cet hiver?
Des activités à la maison, comme assembler un casse-tête ou jouer au Lego.
0%
Des activités dehors come la marche ou du ski.
0%

Quel type de yoga pratiquez-vous?
Yoga plus athlétique
100%
Yoga plus doux
0%
Les deux
0%
Je ne pratique pas le yoga
0%

Do you live in an intergenerational home?

How does your child display their anxiety in school?
Bites nails
0%
Chews on pencils
0%
Develops an upset stomach
0%
Demonstrates anger
0%
Misbehaves
0%

What's the most important quality in a great coach?
Someone who builds confidence
100%
Someone with team spirit
0%
Someone with excellent leadership skills
0%
Someone with patience
0%

How did you achieve a career in the job you love?
Worked hard
100%
Cold calls
0%
Support from family and friends
0%
All of the above
0%
Still working at it
0%