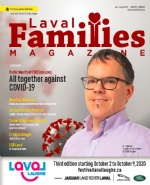 In The Latest Issue:
Latest Issue:
Four Little Words Have N...
An Unprecedented Public ...
Because a Little Laughte...
Estate Planning: The Importance of Having a Will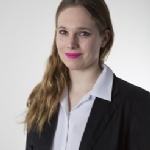 BY:
Lili Monette-Crépô
Issue 29
Dina Dimitratos is a notary who has been operating her own general practice since 2009. She has also been offering her services as a mediator since 2017, helping her clients settle both civil and commercial litigations.

One of Dimitratos' most important tasks is preparing wills and protection mandates for her clients. Together, these documents protect them and their families in the event of unforeseen circumstances. A protection mandate, also known as a mandate in anticipation of incapacity, goes hand-in-hand with a will. "I think everybody should have a protection mandate, especially when you have a family," explains Dimitratos.

"You name, in advance – before you're not able to – people to take care of you when you can no longer take care of yourself," she says. "It's important because it talks about organ donation as well, and whether you want to be kept on life support or not." Dimitratos says a protection mandate is particularly useful in an emergency situation, where a difficult medical situation may require your loved ones to make a quick decision on your behalf.

The mandate can be drawn up to cover you in the event of temporary, permanent, long-term or short-term incapacitation. "If you don't have this, it can cost much more, it takes longer, and it needs to be done with a family or friends council, who would need to get together and name who would be representing you," she says.

In order to have a protection mandate, you need a doctor's report and a social worker's report. This can be somewhat of a challenge as wait times can add up to over a year if the person doesn't have a social worker already. However, some social workers can do the report privately, for an additional cost.

The mandate is also important for taking care of your assets. Dimitratos knows a woman who can't get her husband to sign the papers to sell their home because he is now incapacitated. If they had had the protection mandate already, she could have started procedures to sell their home. Instead, she is stuck, being unable to complete the sale without her husband's signature confirmation.

According to Dimitratos, everyone should have a mandate as well as a will, which takes effect upon death. A will details how someone wants their estate divided after they pass away, and includes both assets and liabilities.

In a will, you can choose your estate representative, also known as an executor or a liquidator, as well as your beneficiaries. A will may cost $ 200 to $300 to have notarized, but Dimitratos says it may actually be a cheaper solution. "If you don't have a will, it costs more than $500 because you have to do more paperwork, and there are delays as well. When you do have a notarized will, the process is much faster,'' she explains.

Before any appointment, Dimitratos sends questions to her clients to help them prepare. She started the practice early on in her career after a bad experience with her very first clients, who argued about legal guardianship of their children.

"It's uncomfortable for me but it's also uncomfortable for them because it's personal, so that's why I thought about sending the questions in advance. People can go through things together when the time is right as a couple, or even by themselves," she says. "The questions give them a bit of information, but don't go into too much detail. It lets them know what we're going to talk about when we meet, that way we can personalize the document with what they need," she explains.

To get started on protecting yourself and your loved ones, you may want to consider making an appointment with a professional notary, like Dina Dimitratos. Besides her flawless professionalism, what truly sets Dimitratos apart is her human approach. "For me, they are not just clients, they are people, and they need to be listened to," she explains. "So I try to take their needs into consideration in any kind of file that I work with."

Dina Dimitratos offers services in English, French, and Greek, although all official paperwork must be completed in one of the official languages.

Dina Dimitratos can be reached by phone at 514-903-6212 or by email at dina.dimitratos@notarius.net. She is usually available for an appointment within one week. For her clients' convenience, she has offices in both Laval and Ville St-Laurent in Montreal.