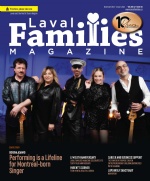 In The Latest Issue:
Latest Issue:
Welcoming 2024
Performing is a lifeline...
Laval Families Magazine ...
Netfolie's Mission to Untangle the Web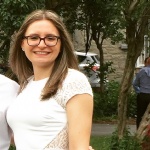 BY:
Alexia Marsillo
Issue 30
In this day and age, do you even exist if you don't have a social presence? A company's success can heavily rely on how well it is marketed online. As its name suggests, the web can be a messy and complex system of interconnected elements. Most people use the Internet on a daily basis, but how many fully understand it – or know how to use it efficiently to market their business?

That is where Netfolie comes in. The Montreal-based web agency's main goal is to untangle the web and to provide their customers with all the tools and information they need in order to market, advertise and brand themselves properly. Netfolie's slogan says it all; "The web made simple."

"The web is a big machine, it's very hard to understand and it's very [time] consuming for a customer to get informed on all platforms and social medias and all the tools that are available to them," explained Netfolie CEO and Founder, Dennis Markessinis. "So we make the web simple for them. We provide a 360-service to our clients."

The complete service Markessinis offers makes Netfolie a one-stop-shop. It starts with service to a company for all technical needs, such as web development and design, but also extends to strategies and goals, such as marketing and social media presence. "We take it to a personal level, where we forecast their needs and we grow with them to bring that added value," said Markessinis. "We stay specific to the client for long-term purposes – that is our main goal."

Markessinis began Netfolie with his wife, Anna Dimou, 10 years ago. The company got its start through the restaurant business – more specifically, through working to create online platforms for the food industry. From there, Netfolie continued to branch off – to the United States and then globally – and now works with a multitude of companies in various domains.

With a background in computer technology and working experience as an IT professional, Markessinis is the strategist and technology leader of the company. His equal business partner and wife, Anna, is the company's CFO and Office Administrator.

"She is the foundation and the back end of this company, making sure everything is going well on the business side," said Markessinis. "It is a big responsibility to have a company, so she also provides support and runs the family. I wouldn't be here if it wasn't for my wife, so she is more than 50 per cent."

From a two-person endeavour 10 years ago, Netfolie has now expanded into a team of 10 members, including an analytics expert, an art director, a marketing specialist, web designers, a systems administrator, and a customer service representative. The company also works with an extensive list of third party partners when something is out of the ordinary for them. For example, Netfolie will consult with fellow experts when it comes to specific video or imagery work, ensuring the customer always receives the best possible service.

Netfolie's current office is in Montreal, but they are expecting to open additional offices in Laval by early 2019. These new offices are just one of the signs of the continuous growth and evolution Netfolie has been experiencing over the years.

"The Internet changes in our world in months – that's how dramatically technology advances," said Markessinis. "We have to be on top of our game and adapt to the market, so now we are basically prepared for anything that comes at us."

According to the CEO, Netfolie has taken on customers in all different areas of business, from pharmaceutical companies, to real estate, to more specific business niches, such as machinery companies, amongst many others. "We have that extra value in that we are able to diversify our services to any kind of business," said Markessinis.

Markessinis has always seen Netfolie through a long-term lens. Just as he and his wife began this company as a long-term business venture, Netfolie wishes to extend that courtesy to each of their clients. "We really bring ourselves into our customers and we immerse ourselves into their business and get to understand what they are really all about," explained Markessinis. "We dissect the company – we think outside the box to decide how we are going to use the Internet to their advantage."

The 360-degree service Netfolie aims to provide to its customers does not happen overnight. It takes long-term planning, strategizing and commitment. Luckily, the Internet is not going anywhere anytime soon, and neither is Markessinis.