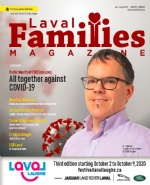 In The Latest Issue:
Latest Issue:
Four Little Words Have N...
An Unprecedented Public ...
Because a Little Laughte...
Spring in the City of Laval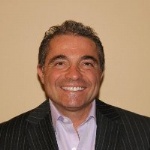 BY:
Luigi Morabito
Issue 32
We've been lucky enough to sit down with yet another one of Montreal's most recognized voices – The Beat 92.5's Claudia Marques. She's known for being candid both and off the air and her personality just radiates from her in every way. Read all about how she pushed her way onto the broadcast scene in Montreal and became one of the city's most loved radio hosts on page 8.

We have some more entries from incredible children in our community that were submitted for our Young Author's Contest. Does your child have a knack for writing? Flip to page 47 to find out how your child can submit their own contest entry. We also have a whole page of other amazing contests on page 43.

In this issue, you'll also read more about how the Fondation Cité de la Santé is working to better our services in Laval. Find out what you can do to help our youth and senior citizens on page 34.

Speaking of health, we also have a wonderful feature on the Clinique Auditive Bougie and its founder in this issue. Get to know how Judith Bougie came to Laval alone and built up a clinic that is now the top auditory clinic in the city starting on page 3. It's a story of hard work, determination and compassion.

I know getting into the habit of working out is tough but our friends at Extreme Evolution are really doing a fantastic job at changing people's lives. Flip to page 14 to see how their clients have completely transformed their bodies with the right trainers.

We're also very lucky to have had the opportunity to bring a special profile to you in honour of World Autism Day on April 2, 2019. Remrov is an inspirational individual. A self-taught artist who doesn't let autism stand in the way of success, Remrov's story is one you can't miss.

This issue's Women's Health section touches on a topic that is important to women everywhere. It's a wonderful piece about learning to accept your changing body at any age. As a father of two daughters myself, I can't tell you how much I value empowering content like this.

Last but not least, we have our final instalment of our Summer Camp Guide. If you're still thinking about summer camp for your kids, you don't want to miss this section. We have some new initiatives to share and some essential summer camp safety tips to help you keep your children out of harm's way this summer. From cover to cover, we always strive to bring you local content that touches the lives of all Laval families. Thank you for picking up our latest issue. Your support is invaluable to us. From myself, my team and my beautiful grandchildren, happy reading!