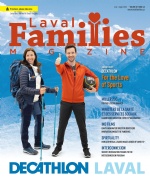 In The Latest Issue:
Latest Issue:
Brighter Days Ahead
Mindfulness and Children
Sainte-Anne: Educating T...
Staying Active at iSaute Laval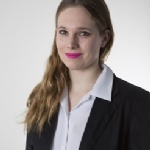 BY:
Lili Monette-Crépô
Issue 34
Located in Laval, this centre was the first in Quebec and is now one of five. Other centres are located in Quebec City and Kirkland, among others. Opened on November 11, 2013, the trampoline centre was renovated during Summer 2018 to make space for new and improved amenities and three new activities.

Annik Brodeur, Director and Manager at iSaute Laval, says that while it's a chain, each centre has its particularities. "iSaute Laval is very family-friendly. Plus, we have activities that other centres don't have, including the new ones."

One of those new additions is Virtual Reality (VR). Participants can choose from a selection of games including the very popular Beat Saber. There is also a laser maze that can be played in two modes. Children especially love a game where participants have to touch a bunch of lasers as fast as possible. The other option is ninja mode, where participants have to avoid laser beams completely.

The third new installation is an augmented climbing wall that offers five different games for everyone, from young children to adults. Though most of the clientele are children aged 10 to 12, Brodeur says there is something for everyone. Since the centre is family-oriented, many families come to simply jump, stay in shape and have fun. For families with small children, there is a zone specifically designed for kids aged six and younger. The centre also hosts birthday parties, including the Golden Ticket, which is a bundle that allows the birthday child an hour a day of free jumping every day for a month. There are also regular birthday bundles for eight to fifteen people.

During the renovation, the centre had its murals redone. And on Friday and Saturday nights from 9 p.m. to midnight, the walls glow in the dark. The evenings, called Club Saute, are for people aged 13 and older. "It's a very festive experience," Brodeur explains.

If that's too late for your children, Family Night happens every Monday night. Families can jump together for an hour for a total of only $35. New all-inclusive bundles are also offered for smaller groups. Solo Tech is for a single person and combines an hour of jumping with 30 minutes of VR, a pair of anti-grip socks, popcorn and slush for $34. Duo Tech is the same concept, but for two people ($54). Another promotion that iSaute offers is the iSquad Combo which is for 4 people and includes 1 hour of jump time per person, 4 pairs of socks, 1 large popcorn and 4 small slushies.

Besides the new attractions, the centre is known for trampolines. In addition to regular jumping, a myriad of activities on trampolines are offered, such as basketball and dodge ball. There is also a foam pit where jumpers can practice their acrobatic skills.

On top of the outstanding activities, the staff is a huge part of the reason why iSaute Laval is so successful. Brodeur credits her dynamic team of about 25 employees for the centre's success.

"We want to create an awesome experience from start to finish," she says. "If you're looking for a place to have fun with your friends and family, iSaute Laval is a good place to work off some energy. People always smile when they jump. They're happy to be here." You might even say they are jumping for joy – literally!