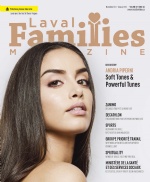 In The Latest Issue:
Latest Issue:
Continued Efforts & New ...
Andria Piperni: Soft Ton...
Becoming The Bull: UFC F...
Laval Cemetery: Committed to Families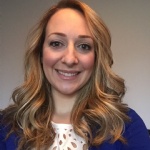 BY:
Maria Tutino
Issue 34
After a loss, it can be difficult to think of anything else but the precious memories left in your heart by that baby, child or adult. The Poirier family and the dedicated staff at the Laval Cemetery are committed to being a supportive strength in families' times of loss.

A Serene, Comforting Landscape
As one of the largest and most modern cemete- ries on Montreal's North Shore, covering approxi- mately 20 million square feet, Laval Cemetery offers a peaceful atmosphere where families can visit their loved ones in tranquility, surrounded by beautiful, serene landscapes and airy, welcoming buildings.

Surrounded by farmland, the landscape allows for a quiet environment, possessing several streams, two fountains, rich greenery, a number of footpaths, and lush gardens. In addition, its location is considered one of the most beautiful preserved natural habitats in Laval and greater Montreal to observe plants and wildlife. It is also being recognized by ornithologists as one of the best bird-watching sites, where more than 186 species were identified in 2017.

Peaceful Resting Places
Whether it is an indoor or outdoor Columbarium or niche, indoor crypt, outdoor plot, under a memorial tree, or in the Masters and Companions section, the Laval Cemetery offers several peace- ful areas for families to lay their loved ones to rest. "The Poirier family has put a lot of love into making sure that everything is picture-perfect. They work day in, day out in the summertime with the horticulture professionals and spend a lot of time making sure that every area is well-kept and looks great for the families visiting," says John Palazzo, Funeral Director at the Laval Cemetery.

The superb landscape includes four spacious mausoleums; St. Vincent de Paul, Our Lady of Pom- pei, St. Michael the Archangel, and Porta del Para- diso. Within Porta del Paradiso are two magnificent chapels; San Pardo and Santa Maria-Goretti.

Whether it's a single, double or quadruple crypt, or a gated, private family chapel for up to 12 people, an advisor can assist in finding the place for you. With the purchase of a crypt, the inscription, photo of the deceased, lantern, vase, and flowers are included. "All the materials used in building our niches and mausoleums are high-quality. We invest a lot into our products. We want the place to be aesthe- tically clean and we want people to have a wow effect when they walk in," Mr. Palazzo explains. The purchase of a crypt or indoor niche has many advantages. Mausoleums make visitation problem-free, seven days a week – regardless of the season – and are heated in winter and air-conditioned in summer.

The cemetery offers a wide range of options for those who have chosen to be cremated including indoor and outdoor niches, outdoor plots with traditional monuments, and also out- door memorial trees.

A newer section in the cemetery, Memorial Tree Garden, is made up of a selection of young trees of different species dedicated to the burial of up to four cinerary urns at the base of each tree. Families may also choose to have a bench placed beside the tree.

Masters and Companions
In addition to providing peaceful resting places for humans, the Laval Cemetery also has a Pet Cemetery devoted to families who wish to res- pectfully bury their pets. This area has various sections including an exterior Columbarium for pets, plots where pets can be buried in a casket, and separate sections for cats, dogs, and various other domestic animals.

"This division is very close to my heart because animals are part of our lives and this section that the Poirier family made creates a new dimension. Often, people don't know what to do with their pets and after ten or more years, you can't just leave your pet at the veterinarian," says Daniel Robitaille, Funeral Director at the Laval Cemetery.

A recent addition, Masters and Companions, is the only cemetery in Canada that offers a respec- tful burial for humans alongside their adored pets. "Whether I bury a pet or close the casket of a human, I look at the eyes of the people and I know that it's part of them, part of their love and part of the love that they received that is going away. Being with these families, supporting them, telling them that they gave a lot of love and received a lot of love,for me, is something priceless," Mr. Robitaille says.

Charities and Commitment to Those in Need
The Laval Cemetery is strongly implicated in caring for the community by supporting several causes which are close to their hearts, including a number of local, regional and national organizations that aim to support ill or struggling children, seniors, and the less fortunate. "What makes the Laval Cemetery what it is, is the love and care of the Poi- rier family. They want to make sure that every family is well taken care of," Mr. Palazzo says.

Several charity events are organized each year, and one of the largest for which the Laval Ceme- tery is a major sponsor, is the Association Espé- rance de Vie–Enfants du Monde charity event held in September or October each year.

"There's an association, Espérance de Vie– Enfants du Monde, in which myself and Mr Jacques Poirier, the president of the Laval Cemetery, are involved. What we do is raise funds for children in need in Montreal, Quebec, Canada, and the rest of the world and Sr. Pierre-Anne Mandato distributes these funds to children throughout the world," Mr. Palazzo proudly explains.