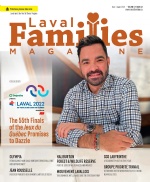 In The Latest Issue:
Latest Issue:
Renaissance Man Isaac Bo...
For the Love of Wilderne...
Bring On Summer Days!
Now at Mezzanine Level – Same Address!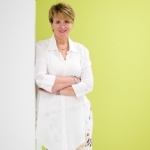 BY:
Judith Bougie
Issue 34
On June 12, 2019, Judith Bougie celebrated 35 years working as an audioprosthetist. A career milestone that shows deep expertise, devotion and a never-ending passion for audioprosthetics.

This important occasion has given Judith the opportunity to look back fondly over the past few decades. Always having been committed to delivering quality and personalized service, she has allowed plenty of room for her team and colleagues to shine. Her career path is one built on humanity, honesty and loyalty. From her new office, the founder of the hearing clinic is proud to share her values and mission; being the reference in hearing health in Laval.

Clinique auditive Bougie, audioprothésistes; this place is the core of all Judith's operations, proud owner since 1985. Over the years, the faci- lities have evolved, the client base has grown — and so has the team. At her side, Marie-Josée, Karine, Tania, Nesrine, Stéphanie, Andrew and David all have one thing in common; excellence. Their remarkable commitment fosters hard work in others and trust in their patients.

During the spring of 2019, Judith moved the clinic from the fourth floor (suite 403) down to the mezzanine level (suite 100-M) to a 4,900 sq. ft. space, twice as large and making it possible to offer yet even better suited services to a growing clientele. This move gives her the opportunity to operate a facility suited to her ambitions. The Audiology Department previously located at suite 404 is now right next door, at suite 101-M. To access it from the clinic, simply use the walkway.

Clients are greeted by the support staff, ready to guide and inform them of the next steps. Fatima, Jackie, Kim and Angela are always smiling and eager to help. For people who lack transportation or experience difficulty walking, Pierre, our chauffeur and jack of all trades, provides shuttle service in a vehicle with the clinic's name and logo clearly identified.

The new office features nine consultation rooms, an audiometry room, a microscope room, a large waiting area with a coffee station, administration offices, a modern lab, a kids' area and a conference room. Now with twice as much office space, Judith is looking forward to recruiting new staff and providing them with outstanding work conditions.

The new lab is designed to allow up to eight audioprosthetists to work simultaneously. This new setup greatly speeds up repair service.

The conference room allows employees to attend regular training in order to remain up to date with the latest technological breakthroughs in hearing health.

In a dedicated area of the clinic, our playroom keeps children entertained with toys and books while they wait patiently for their turn. Here we see Stéphanie Nadon-Lalande, audioprosthetist,who is currently on maternity leave, playing with her daughter Livia. She's expected to return in January 2020.

Enjoy the rest of your leave Stéphanie!

In addition…
Since 2017, we've been selling a plush bunny called Boogie at our office and at trade shows, with proceeds being donated to various Laval organisations. Among these, the clinic supports Connec-T, a company that provides universal access to the visually impaired and to those who are hard of hearing, through an audio-description service. Using a smartphone application, sound is transmitted directly to one's hearing aids. The clinic trains volunteers who can then help connect patients' hearing aids to the Connec-T audio description system. For more information about this service, visit www.connectau.ca.

To experience the joy of hearing and being heard, we invite you for a visit and a complimentary hearing screening (offer valid until November 30). It's recommended for people over 50 years old to get their hearing tested.