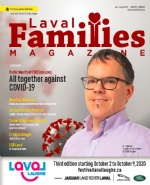 In The Latest Issue:
Latest Issue:
Four Little Words Have N...
An Unprecedented Public ...
Because a Little Laughte...
Paolo Galati: On Your Side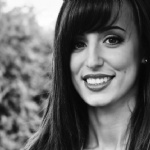 BY:
Maria Barillaro
Issue 35
The current political climate in Quebec has some residents wondering: What will happen to the Sir Wilfrid Laurier School Board? How will Bill 21 affect the community? What can local residents count on from Chairperson Paolo Galati?

Who is Paolo Galati?
As the Chairperson of the Sir Wilfrid Laurier School Board (SWLSB), Galati is more than a just a figurehead. As a parent and resident in the community, and former governing board Chairperson, Galati understands what parents want from their school board – firsthand.

"As a parent of two daughters, who have successfully gone through the English public system, I wanted to be heard and understood and that's my job as Chairperson. To listen, to understand, and execute the needs and wants of our community, to the best of my ability," Galati explains. He believes his experience in the community is an asset to his work as Chairperson. "I've been involved in every aspect of the education system, from being a parent to being on the governing board, member of the board of directors of the Sir Wilfrid Laurier Foundation, commissioner, to being elected Chairperson of this successful school board." If anyone understands what parents in the community want, it's him.

Galati believes a huge part of the SWLSB's student success rate comes from the connection to the community. "Urban and rural settings at SWLSB make us unique. We have a large territory – the size of Belgium. Our schools are community hubs, a place where people come together. That's why we're so successful," he explains. "Because we tap into these communities and cater to them based on their specific needs."

Galati takes his role as Chairperson seriously, not just because it's his job, but because he was chosen by the residents. "It's important to understand that you are an elected official. You were put there by the population and you have a responsibility to listen to the people," he affirms.

Do We Need a School Board?
The current government is considering abolishing school boards altogether. However, Galati believes huge opportunities will be lost without the current structure of a dedicated board.

"With what's in place right now, there are elections [for school board officials]. You're properly represented by your elected officials," Galati explains. "People can voice their concerns and be heard. We're there to represent the parents. By eliminating the school board, who will represent the population or the community and their needs?"

At the heart of the issue, for Galati, is student success. Providing the students – the future of tomorrow – with the tools they need to continue to excel and achieve is of utmost importance. "SWLSB boasts an 84.5% graduation rate, which ranks us the first school board in Laval, Lanaudière, and Laurentides, fourth amongst the English school boards, and eighth across the province (72 school boards)."

Galati whole-heartedly believes the board comprised of passionate and dedicated teachers, support staff, maintenance staff, professionals, administrators along with the elected council of commissioners, all play a crucial role in improving the students' educational journey to success.

The SWLSB's mission is to provide a stimulating learning environment, develop accessible educational services and enable all our students to become responsible independent citizens in their community and beyond. As such, the SWLSB is committed to work with all stakeholders to accomplish all goals established in its commitment to success plan and to continue to move forward.

"At the official opening of St Vincent Elementary School in 2006, our Principal Gaëlle Absolonne, who is now our Director General, along with former Director General, Anne-Marie Lepage and Chairperson Steve Bletas, were flabbergasted because they felt like they were in a private school. We had put so much time and energy in creating a good environment to offer the best educational experience possible for our students," Galati proudly explains.

How Will the SWLSB Handle Bill 21?
Bill 21 is an Act that prohibits school employees from wearing any religious symbols while at work. It has been a hot button topic for many Quebecers in the past few months. Because the SWLSB strives to work together with the community, they are working diligently to ensure this new Act will not affect the student experience or student success.

While Bill 21 is a law that the SWLSB must apply, the Council of Commissioners is always available to listen to any concerns from within the community. Plus, the SWLSB does have a policy in place to ensure respect for ethnic diversity within their schools. They believe fostering an environment of acceptance is extremely important in all of their schools and centres. As a matter of fact, SWLSB has one of the highest inclusion rates in the province – over 95%.

The Bottom Line
The SWLSB is not just an institution. It's a community working together to give each and every student the best possible opportunities. "The school board plays a part in the everyday life of a school, which affects the students," Galati explains. "At the end of the day, our 'clients' – the most important thing for society – are our students, the future of our everyday lives."

The role of the school board is to tailor each school to the needs and wants of the community in which it serves. With Galati as Chairperson, residents can rest assured, their opinions matter.