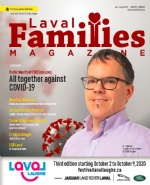 In The Latest Issue:
Latest Issue:
Four Little Words Have N...
An Unprecedented Public ...
Because a Little Laughte...
2020 Has Only Just Begun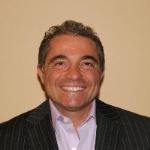 BY:
Luigi Morabito
Issue 36
It may only be the beginning of the New Year, but here at Laval Families, our calendars are quickly filling up with some of the amazing and incredible activities happening in Laval already. This issue promises to bring you loads of new information about our fine city of Laval.

For starters, head straight to page 25 to find out more about where you can buy your tickets to see La Vie en Rose, a performance put on by Ballet Eddy Toussaint. The performance will be held at the Théâtre Marcellin-Champagnat and you won't want to miss it.

We also have some great tips for anyone looking to buy a new home or remodel one this coming spring. Flip to page 19 for details about the art of window design by the professionals at Groupe Réno-Expert Habitat Inc. These tips can help you choose windows that will not only look great and add value to your home, but lower your energy bills at the same time.

I also hope you'll take a moment to read about our Laval Rocket team on page 22. More specifically, you'll find out more about their good-hearted nature and their devotion to giving back to the Laval community. In today's day and age, it really does the heart some good to see young people helping out and giving back the way this team has been doing and will continue to do this year.

We're very excited to share a story about the Espoirs Laval Cycling Club, as well. They're introducing a day camp, which will continue to get young people motivated and excited about cycling. The focus is on developing athletes and this amazing organization is only growing. Find out more about it on page 20.

Speaking of camp, it may seem like this cold winter isn't coming to an end anytime soon, but before you know it, it'll be time to register your children for summer camp. Now is a great time to visit our Summer Camp Guide, starting on page 42. Find out more about the summer camps available to your children. Plus, you'll find some great advice on how to prepare your kids for summer camp this year.

Our Young Authors Contest is still going and your children still have time to enter for their chance to be published in our magazine. Go to page 27 for details. If you're looking for fun ways to entertain the family this winter, remember to flip to page 48 to find out what's happening in Laval.

The winter may be cold but there is a lot of beauty in it. I will continue to enjoy the winter and the great outdoors before the season comes to an end. Wishing you all a safe and happy winter.