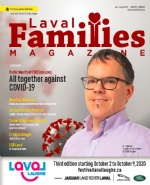 In The Latest Issue:
Latest Issue:
Four Little Words Have N...
An Unprecedented Public ...
Because a Little Laughte...
Roseline Filion, Headfirst into the Jeux du Québec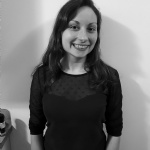 BY:
Melissa Rodriguez
Issue 37
The Jeux du Québec is a multi-sport competition that brings together athletes from across the province aged 12 to 17. This year, Laval will host the 55th Finale des Jeux du Québec from July 31st to August 8th. Almost 3300 young athletes from the province's 19 regions will be participating. To find out more about this large-scale event, we chatted with spokesperson and Olympic diver, Roseline Filion.

Where it all started
Filion remembers the Jeux du Québec very well. In fact, she proudly participated in the 1997 Finale in Chaudière-Appalaches. Her diving career spanned 20 years and included three Olympic Games: Beijing in 2008, London in 2012 and Rio in 2016. She brought home two bronze medals for Canada in the latter two, but it was at the Jeux du Québec that her Olympic dream began to take shape.

"It was my first multi-sport competition with clothing that represented the city of Laval and also meeting other people who came from all over Quebec," explains Filion. "There was really an Olympic atmosphere," she adds with a laugh. "It definitely made an impression on me!"

Filion is proud to be spokesperson for the 55th Finale des Jeux du Québec de Laval 2020. "Actually, I'm the spokesperson/godmother," she explains. Filion was approached for the role shortly after her return from Rio in 2016. "I was so happy to accept, because Laval is my city, it's where I grew up, and it's here that my athletic dreams began," she says. "It's really an important role for me. Laval has always supported me in my career, and this is a way for me to give back in a way. You could say it's like coming back to where it all started."

Experience it up close
Vivez-les de près! (Experience it up close!) This is the slogan for the 55th Finale des Jeux du Québec de Laval 2020. While you might watch the Olympic Games in Tokyo from the comfort of your home, this summer in Laval you can cheer on local athletes up close right in your own city! What's more, access to the competitions is free!

It's important to note that for young athletes, the Jeux du Québec represents their first large-scale competition experience, as it was for Filion when she began. It's an unforgettable experience for athletes who want to follow a path to more senior competitions. And who knows? These young athletes might be among the next group you'll see in future Olympic Games.

Life after diving
When asked to identify a pivotal moment in her diving career, Filion doesn't hesitate. It was her participation in the Jeux du Québec that really propelled her to get to the Olympics. At the time of participating in the Jeux du Québec, she had only been diving for a year.

Another pivotal moment for Filion was her participation in the Aquatic Sports Championship in Montreal in 2005, which was her first on the senior international scene. There she brought home a bronze medal in synchronized swimming with her partner, Meaghan Benfeito. Obviously, she can never forget her experience at three Olympic Games either.

It was in 2017 that Filion decided to retire from diving after a 20-year career. What does one do after experiencing the adrenaline of competitions, victories and the Olympics? "Diving has been part of almost my entire life!" says Filion, with a laugh. "I'm still involved in sports, especially with the Jeux du Québec. The 12 to 17-year-old athletes are at an age where they have to decide whether they continue with sports or go on to something else," she explains. "For me, it's important that I share my experiences with those who will compete in Laval in 2020. I tell trainers and organizers that even though we tend to think about medals, it's really about the experience. This is what will make the Jeux du Québec unforgettable for these athletes."

Filion says that as spokesperson, she is regularly stopped in the street by others who recount their stories of participating in the Jeux du Québec. "I'm very happy to still be involved in this way," she says.

In addition to remaining connected to the world of sports, Filion has also become an entrepreneur. In 2016, she co-founded Immersia, which provides escape room game experiences. The young company already has two locations, one in Laval and one in Boisbriand. For Filion, escape room games are way to de-stress. "For an hour, you don't think of anything else except solving the clues and enigmas of the game," she says.

Filion has partnered up with her brother, her two cousins and their spouses – a true family business! "We let our creativity flow and we now have plenty of game ideas and projects in mind. It's a really great field that I came into by accident, because originally I studied in communications," she explains.

Filion does do some work in media, however, as she has collaborated with Radio-Canada on several projects such as the Jeux olympiques de la jeunesse in Lausanne. She also works with CIME FM, a Laurentian radio station, hosting the airways every Sunday from 4 pm to 9 pm.

It's easy to see that whether on the diving board or in everyday life, Filion doesn't hesitate to dive in headfirst to go after her dreams and ambitions.