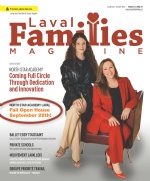 In The Latest Issue:
Latest Issue:
Education and Culture at...
Coming Full Circle Throu...
Validation Guide: Will Y...
Education and Culture at the Forefront this Fall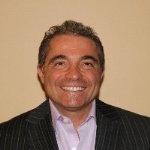 BY:
Luigi Morabito
Issue 49
After the warm and sunny days of summer, it's time to start gearing up for the new season ahead and the back-to-school period. For many families, this brings on a time of adjustment and change. For others, it might signal the start of new adventures, a new career, or a new business launch. We've got you covered on all that—and more—in this issue of Laval Families Magazine!
Our Cover Story features what's new and evolving at North Star Academy Laval, our city's only private English high school. Starting on page 8, learn more about the school's many programs and extra-curricular activities, along with its advantageous grade 12 program. What's more, we get an inside peek into a heart-warming mother-daughter success story right from within the walls of the school!With back-to-school on the radar, choosing a high school for your child can seem like a daunting task, so it's never too early to get informed on what's available. In this issue, we hear from a variety of private high schools such as Selwyn House, Lower Canada College, West Island College, Loyola High School and Sacred Heart School of Montreal.But before we get the new school year in full swing, let's celebrate with the City of Laval's Fête de la Famille at Centre de la nature on September 4th. Details are on page 29 along with other fun family activities to check out! There's even more to celebrate as we touch bases with four of Mouvement Lavallois's elected municipal councillors starting on page 16. Jocelyne Frédéric-Gauthier, Sandra Desmeules, Pierre Brabant and Seta Topouzian each reflect on recent projects they are particularly proud of—each one making Laval an even better city to live in!If you're looking to add some cultural events to your calendar this fall and winter season, be sure to check out the performance details from Ballet Eddy Toussaint on page 32—there is truly someone for everyone!Calling all entrepreneurs and business owners! If you're looking to validate whether or not your business idea will work, Yes Employment + Entrepreneurship has some expert advice and tips on page 12!For seniors looking to keep active over the colder months, the Axion 50 plus gym is a great option. Details about their new equipment and services offered are on page 30.With so much going on as the fall season approaches, don't forget to take time to appreciate our city's many greenspaces including parks, walking and biking trails. Enjoy the sites and sounds as our landscape begins to show its autumn colours. Support our local businesses as much as you can to keep Laval thriving!