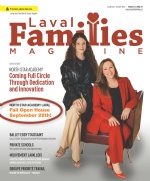 In The Latest Issue:
Latest Issue:
Education and Culture at...
Coming Full Circle Throu...
Validation Guide: Will Y...
Coming Full Circle Through Dedication & Innovation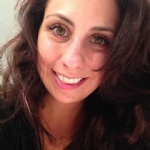 BY:
Lisa Cipriani
Issue 49
It's no secret that parents want their children to be happy, safe, and well supported in all facets of life, including their educational journey. As parents, we feel that blend of pride and worry whenever our child is faced with an important milestone, such as entering kindergarten, starting or graduating high school.
In the early 2000's when Josée Pepin was seeking out a high school for her daughter to attend, the schools available at the time kept coming up short in terms of her expectations. Pepin wanted an English high school that was close to home, offered an enriched curriculum, smaller class sizes, a student-centered approach to teaching and learning and plenty of opportunities to explore real-world situations both inside and outside of the classroom.In response to this need for daughter ­Christina-Jade Contrino and the Laval community at large, Pepin founded North Star Academy Laval (NSAL) in 2006, the only private English high school on the North Shore. With her high standards set and a desire to provide world-class education right here in Laval, Pepin began a journey that would eventually come full circle when Contrino joined her in early 2022 to make NSAL her career home, supporting and continuing the legacy Pepin has been building.Contrino, who completed post-secondary studies with a business degree in Global Leadership and Management, spent several years working in Canada and abroad, mainly in student recruitment. After rewarding experiences working in China and in the U.K., Contrino joined the NSAL team last year as the Marketing Specialist.As determined as ever to provide students with comprehensive, unique and rewarding educational experiences, Pepin (Director) and Contrino work in conjunction with their dedicated teaching staff to 'bring the world to our students and our students to the world'. No opportunity is lost to create real-world learning experiences for their students."I'm always looking for ways to do more," says Pepin. No matter how challenging running a high school can be, she is steadfast on the ultimate priority: the students, your children. Prioritizing each student, each day is much more than a catch phrase at NSAL. It's an entire mindset that the staff bring with them to nurture the hearts and minds of the NSAL family.Building upon a solid reputation of quality education and dedicated teaching staff, the team at NSAL continue to innovate and create enriching experiences for students at every grade level, including those who choose to continue on to grade 12. "Our team has whole-heartedly embraced the values and mission that have made this school what it is," says Pepin.With a 98 % graduation rate and 100 percent of their grade 12 students getting accepted to a university program, NSAL is well-equipped to provide your high schooler with everything he/she needs to be successful both inside and outside of the classroom."We're building leaders for today's generation," says Contrino, 26.
Overview
With the typical class size at NSAL well below public school standards, teacher mentor teams, popular Signature Programs and more than 20 extra-curricular activities on offer, NSAL provides students and their parents with total peace of mind. "Here we have everything you could need or want as a student and we support you every step of the way," says Pepin. "Parents don't have to commute 90 minutes to Montreal to access a quality English private school for their child—it's right here in their own backyard."NSAL's Signature Programs provide a broad selection of courses that joins interdisciplinary learning and the traditional STEM disciplines of Science, Technology, Engineering and Math with the Arts. The Community Connections programming for all students is vast and provides myriad opportunities for students to become active citizens in their community for a variety of causes, as well as build their professional network before graduation.The Signature Athletics Program and the Sports Concentration Program allow students the opportunity to explore a variety of sports, learn team skills and prepare for professional sports experiences following graduation.Students can graduate after grade 11 and obtain their MEQ Secondary School Diploma, or choose to stay on for grade 12, which results in an Ontario Secondary School Diploma (OSSD)—an effective fast-track to entering university. Those who choose to stay on for grade 12 have the benefit of obtaining both diplomas.
Grade 12 Program
Years before concerns over Bill 96 affecting English CEGEP admissions, NSAL has proudly been offering a grade 12 option since 2014 for those who want to complete an additional year at NSAL while benefitting from the fast-track to university path. Rather than attend two years at a CEGEP requiring approximately 24 courses to obtain their D.E.C., grade 12 students can complete 7 courses in grade 12 at NSAL, choosing from four program streams: Commerce, Computer Science, Social Science or Science with or without Biology. This provides students an opportunity to select courses in alignment with their university program and career aspirations. Students receive full support and guidance when applying to universities either here or abroad."As a student in grade 12, you get to stay in a familiar school with familiar staff, close to home right here in Laval, and you have the support of our personalized pacing guides and coordinators to make sure you succeed," explains Contrino. "Our grade 12 students have the benefit of amazing optional internship-like experiences as part of their program, so not only do they get to experience what it's like working in a certain field, it allows them to focus on a potential career path and build their professional network right out of high school!"Contrino explains that students can participate in an optional 'industry-shadowing' experience during grade 12, where they can explore fields of interest and get some real-world experience locally, giving them an edge over their future competition. "We will find an experiential learning opportunity for whatever our students are interested in pursuing," she says.
Signature Athletics
The Sports Concentration Program path provides students with an opportunity to combine their passion for athletics with a world-class educational curriculum. NSAL's partnerships with Somang Hockey and Soccer RP are just one of the many ways students are encouraged to maintain a healthy lifestyle.The Somang Hockey Development Program at NSAL provides players with the opportunity to participate in specialized camps and leagues in Canada, the United States, Europe and Asia, while working with renowned technical coach François Landreville. Players enjoy advanced visibility with scouts and the possibility of receiving offers from Junior Major, USHL, USPHL, NA3HL, NAHL, WSHL or Junior A teams.The Soccer Development Program at NSAL in conjunction with Soccer RP allows students of all ages and abilities to develop their skills at a recreational, competitive or elite level. Students in the soccer program will work directly with Rocco Placentino, the Sporting/Technical Director of CS St. Laurent, who has had an international career playing for several clubs in Italy, the Canadian National U20-U23 and Senior team as well as for the Montreal Impact.
Values
NSAL operates under a set of core values that students are encouraged to hone over their high school years: knowledge, compassion, strength, courage and integrity. These core values are also the names of the school's "houses" to which students belong throughout their years at NSAL.Knowledge is key, and NSAL provides unique experiences through their Signature Academics, which is a rigorous but supportive curriculum. Compassion is taught through the Community Connections activities, ensuring that students experience what it's like being an active citizen in their community. Through resilience and the act of perseverance, students develop their strength. As they discover their own unique talents and interests and begin forging their path through the high school years, students build upon their courage to try new things. Integrity is present through the code of conduct, student life, ethics and how one conducts themselves in and out of school."This is why it's so important to offer these activities to the students, whether it's through fundraising, or using their voices in debates, because we strive to develop well-rounded students," says Contrino.
Coming Full Circle
As Pepin and Contrino each reflect on their own experiences at NSAL—Pepin as Founder and Contrino as a former student—they both agree that one of the unique differentiators at NSAL is that Pepin is not only the Director, but the owner of the school, a fact Pepin humbly admits is what makes NSAL a 'home away from home' for her, her daughter, the students and the staff.Contrino's goal is to continue promoting the mission and values at NSAL that she cherished as a student at the school. "Through my role here, I want to foster and share those values as we shape the generations to come, providing students with the skills they need to succeed in school and in life," she says.Pepin's hard work over more than 15 years and counting has paid off in more ways than one. "Seeing how my daughter flourished and succeeded in her education here at North Star Academy Laval and now has come to join me by choice for her own career, it's a mother's dream come true," says Pepin. "It's legacy building—not just for Christina and I, but for our students, too. We teach not only for school, but for life! This is YOUR private school in YOUR community for YOUR child."To learn more about NSAL, visit northstar academy.ca and be sure to attend the upcoming Open House on September 29th, 2022. At the Open House, students and their parents can tour the school and meet with the teaching staff and administration. "Come see us, have a chat and get to know the NSAL family," says Contrino.