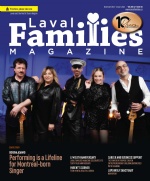 In The Latest Issue:
Latest Issue:
Welcoming 2024
Performing is a lifeline...
Laval Families Magazine ...
Welcoming 2024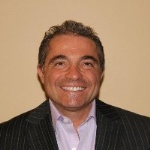 BY:
Luigi Morabito
Issue 55
As we approach the end of 2023 and gear up for 2024, the holiday season often prompts us to think about our achievements, set new goals, and consider if we've fully enjoyed life in the past year. In this magazine edition, you'll find fresh content that encourages you to ponder these aspects while you explore the pages.
Our Cover Story shines a spotlight on Borina Adamo, whose life has been forever influenced by her love of music. For an impressive 17 years, she graced the stage as one of the lead singers of The Becket Players in the vibrant West Island. This remarkable organization staged a diverse array of shows and musicals annually, all aimed at raising funds to support various children's charities in and around Montreal.But just before the world was swept up in the pandemic's turmoil, Adamo embarked on a new musical adventure by founding the Electric Street Band (ESB). Now, ESB can be found igniting the atmosphere in bars, restaurants, clubs, and even exclusive private events with their electrifying performances. To uncover the full story, turn to page 8 and dive into the world of Borina Adamo and her sensational journey.Flip over to page 10 for a dive into the celebratory essence of this magazine's 10th anniversary! Delve into the captivating origin story, its creation, and the enigmatic figure behind it all, Luigi Morabito. Laval Families was initially conceived as a beacon for the Laval community and the lower north shore, yet its wealth of information resonates far beyond those borders.In essence, the mission has always been about giving back to the community. However, Morabito will humbly attest that Laval Families is a collaborative masterpiece. Over the years, he meticulously curated a team of unwavering dedication and expertise, ranging from visionary designers to eloquent writers and astute editors. Page 10 unfolds the narrative of synergy and commitment that has made Laval Families a beacon of community connection.For some career and business support, turn to page 18 to discover purpose-driven entrepreneurship. While the business world is undeniably preoccupied with profit, nowadays any entrepreneur who is not purpose-driven risks getting left behind. As the importance of making a positive impact on society and the environment becomes more urgent, businesses with a demonstrated commitment to the good fight are coming out on top.Finally, on page 16, Groupe Baronello offers invaluable insights to assist you in determining whether the time is right to part ways with your home. With a keen eye, they unveil three unmistakable signs that indicate it might be the right moment for a change.The intricate dance of selling and buying real estate can be a formidable undertaking. While some individuals possess the knack for swift decisions and the agility to navigate the path of selling, others tread cautiously, engaging in deep contemplation. Often, this pivotal juncture can become a topic of household debate, creating a division of opinions. For an in-depth exploration of this dynamic, turn to page 16 and discover more.We wish you all a wonderful holiday season and a terrific new year!